Honoring Black History at PIFF
Citywide festival puts focus on world diversity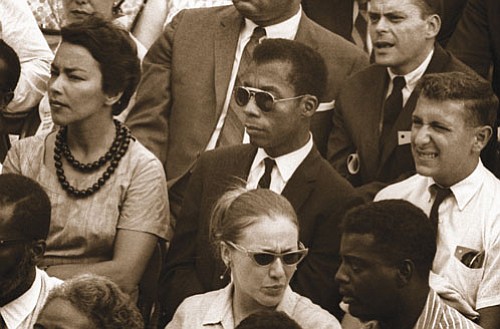 "The Happiest Day in the Life of Olli Mäki" won a major prize at the Cannes Film Festival and explores the true story of a Finnish boxer who vied for the 1962 World Featherweight title in Helsinki. It's a refreshing departure from the usual underdog story, as this underdog remained an underdog; this sensitive retelling in black-and-white allows us to examine the pressures on Mäki as he faces his bout with an American fighter who no one who was really awake thought he had any chance of beating. During the weeks he spent preparing for the fight, he also fell in love with a young woman from his hometown, and their sweet love story frames this story and invites audiences to wrestle with the ways in which this self-effacing young man actually found happiness in walking the gauntlet set before him during that summer of 1962. You can see it on Feb. 12.
"Lost in Paris" is the quirky tale of Fiona, an awkward librarian from Canada, who visits Paris for the first time after receiving a plea for help from her elderly Aunt Martha. Star Fiona Gordon and director Dominque Abel have paired before ("The Fairy") to create a similarly whimsical blend of slapstick and stylized charm. Fiona arrives in Paris to find that Martha has disappeared, and embarks on a search that is full of disasters, prompted and assisted by her encounters with a homeless man named Dom who both thwarts and saves her. Their adventure is full of spectacular dancing and falling, sometimes in the same moment, and is a peculiar delight. You can see it on Feb. 10 and Feb. 12.
"Kedi" (the Turkish word for cats) inquires into the phenomenon of feral cats in Istanbul, who reportedly have an exalted status in Turkish culture. The film doesn't really explain why; instead it makes use of that connection between cats and humans in Istanbul to examine the lives of seven cats and the humans who feed and admire them. Artfully conveying the resourcefulness and uniqueness of these felines, director Ceyda Torun often captures a cat's eye view of their movements. You don't have to be a cat lover to appreciate this film (though it certainly helps); Torun manages to convey something quite fascinating about how these animals achieve a kind of sweet and complex harmony with their environment that beguiles their human neighbors. This film appears headed for a theatrical release after the festival is over, and you can catch its PIFF showing on Feb. 11.
You can find the full PIFF schedule at nwfilm.org, and purchase tickets online or at the Portland Art Museum.
Darleen Ortega is a judge on the Oregon Court of Appeals and the first woman of color to serve in that capacity. Her movie review column Opinionated Judge appears regularly in The Portland Observer. Find her movie blog at opinionatedjudge.blogspot.com.