Major Support for Affordable Homes
Wells Fargo grant to help displaced families
2/8/2017, 10:08 a.m.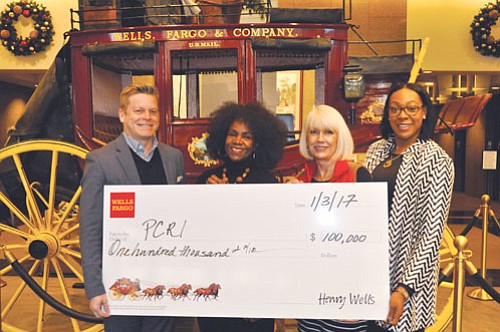 Twenty-two low-income families displaced by gentrification will be able to purchase a home in their former neighborhood, thanks in part to a $100,000 grant from the Wells Fargo Housing Foundation to Portland Community Reinvestment Initiatives (PCRI).
The nonprofit group will use the monies to help build 22 new homes in north and inner northeast Portland for purchase by the families. Construction on the homes is expected to start later this year, with all 22 homes completed and sold to qualifying families by the end of 2018. PCRI is estimating the total construction budget will be close to $6 million.
"Helping a family become a homeowner is one of the most effective ways to help them overcome displacement from their historic neighborhoods," said PCRI Executive Director Maxine Fitzpatrick. "This grant is an important tool to make homes available and affordable for families who want to return and stay in the neighborhoods they once called home."
The Wells Fargo grant will make homeownership more affordable by helping offset PCRI's development costs for new homes built on land it owns. The completed homes will be prioritized for sale to households who have been involuntarily displaced or are at risk of displacement from north and inner northeast Portland.
Families purchasing the homes will also receive support from PCRI's HUD-certified homeownership education and financial education programs.
The 22 homes are part of a larger PCRI initiative: Pathway 1000. The initiative aims to develop 1,000 new homes during the next 10 years, prioritized for residents involuntarily displaced or at risk of displacement from north and inner northeast Portland.
"This grant is part of our commitment to the community to support the creation of more affordable housing, which is so desperately needed in Portland," said Wells Fargo Oregon Regional President Tracy Curtis of Portland. "We work in tandem with PCRI and other community-based nonprofits to ensure stability and opportunity for local families."
The $100,000 grant to PCRI was one of 56 neighborhood revitalization grants totaling $6 million that Wells Fargo Housing Foundation gave to nonprofits in 20 states and the District of Columbia through its Priority Markets Program. Since 2009 the program has provided grants totaling more than $42 million to nonprofits in 125 communities.
Since 1992, PCRI has preserved and expanded affordable housing options for low-income families in Portland. More information: www.pcrihome.org.