Heartbreaking and Inspirational
Illuminating the mental health wounds of war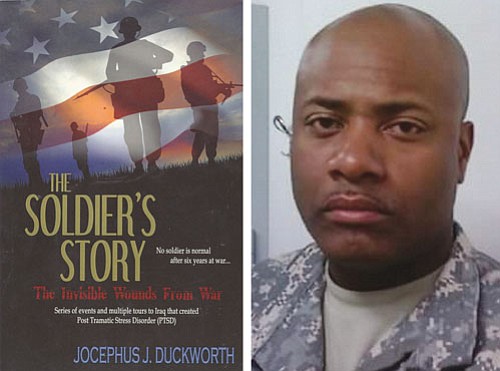 Portland resident, retired Staff Sgt. Jocephus J. Duckworth has published a book to help his fellow combat veterans titled "The Soldier's Story: The Invisible Wounds from War."
Duckworth spent 16 years in the Army and served fours tours in Iraq. During his last tour in 2009, he began to suspect he was suffering from Post Traumatic Stress Disorder (PTSD), a mental illness. He struggled with inner turmoil and fought for three years to get treatment from the Army.
Before his first intake appointment with a military psychologist, he wrote a 25 page statement describing the side effects he was experiencing from active combat. Those 25 pages grew into his book and his new found dedication to stop suicide deaths among his fellow war veterans. It's estimated that between 20 to 22 veterans take their own lives each day,
American soldiers returning from World War II were described as being "shell shocked," a term that after the Vietnam War became the root clinical diagnosis for what is now known as PTSD. The mental anguish was tied to the homelessness, chronic illnesses and addictions that a good number of Vietnam vets were dealing with as they tried to transition back to society. Serving in combat, being witness to the realities of warfare and losing friends to fire takes a toll on a soldier's mental health. Victims of domestic abuse, natural disasters and terrorist attacks also suffer from PTSD.
The number of soldiers returning home with PTSD has consistently risen in the U.S., and more recent combat veterans, with tours in the Middle East have the highest rate of PTSD in history. Only 50 percent of those veterans, however, seek help for PTSD and of those, only 20 percent finish their therapy. Many veterans with PTSD turn to street and prescription drugs or alcohol to self soothe their symptoms.
Duckworth describes PTSD as living under constant stress, with flashback episodes of traumatic events, and realistic nightmares, all which can result in emotional outbursts and violence.
"Most of the time, I have to just bite my tongue and just let it be. People just don't understand the way a combat mind works and how deep a soldier's emotions are. It's just like me trying to figure out what it feels like to give birth," he says.
Duckworth hopes his book will help heal the invisible wounds from war, end the suffering of fellow veterans, and stop the epidemic of former soldiers who commit suicide. He also hopes the book will help civilians understand the struggles which veterans face when they come back home and to bring awareness to their inner battlefield.
From his personal account, readers are given a window to war through a soldier's eyes, from transitioning from an enlisted man to a "war fighting, get 'er done" soldier, to one who has difficulty shutting off the combat mindset after the tour of duty is over.
Duckworth draws from direct experience and gives practical advice with empathy on how to create constructive coping skills for living with PTSD. He advocates for better postwar health services for veterans and empowers them to draw upon their personal and spiritual strength in times of crisis.
A former California resident, he recently reached out to fellow vets in Portland by helping homeless Portlanders at the American Legion's Post 134 on Northeast Alberta Street during this year's harsh winter storms
"The Soldier's Story: The Invisible Wounds from War" is both Duckworth's memoir of war and the scars he carries, but also a guide for others to find help and learn how to cope with the long lasting effects of military service. The book is available for purchase at Barnes and Noble, Broadway Books and online at Amazon.com.