A Legacy Preserved
Daughter of pioneering civil rights couple keeps history alive
Zachary Senn | 2/14/2017, 2:25 p.m.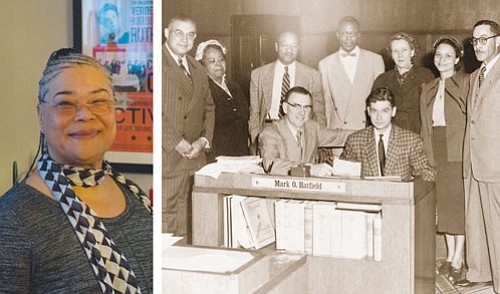 The wide variety of content within the Rutherford collection offers a valuable survey of the historic strength of the community, as even items such as dance programs can offer insight into what neighborhoods in north Portland once contained: "They sold advertisements… So it would show you what black businesses existed, and where they were located, up and down Williams Ave. and up and down Vancouver Ave."
Today, the work of the Rutherford family continues to serve Portland's black population. Two documentaries, "Lift Ev'ry Voice," and "Local Color," both of which were produced by Oregon Public Broadcasting, made extensive use of the material present in the Verdell Burdine and Otto G. Rutherford collection. In addition, a CDC-funded Oregon Health and Science University initiative has taken advantage of the images. The 'Sharing History through Active Reminiscence and Photo-imagery,' or SHARP, program is utilizing the extensive nature of the collection to promote community memory building and learn about Alzheimer's risk in African Americans over 55.
In November, Charlotte Rutherford was honored with the Continuing the Legacy Award by the Portland Branch of the NAACP for her efforts preserving and donating the collection to PSU's Library. Rutherford is quick to point out that PSU is always eager to expand its records relating to the history of Oregon's black community, and encourages individuals with potentially noteworthy content to reach out to the university.
Says Rutherford, "It's a snapshot of a period of time that probably doesn't exist like that anywhere else."