Teen Killed in Police Action
Family grieves to honor his memory
2/14/2017, 2:57 p.m.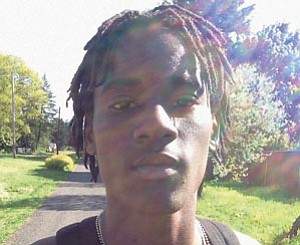 Family and friends gathered Sunday to remember 17-year-old Quanice Hayes, affectionately known as "Moose," at a candlelight vigil in the parking lot of the Banfield Pet Hospital off of Northeast 82nd Avenue. Haynes was killed on Thursday morning as police responded to a car prowl at the animal hospital. It was moments after an armed robbery of a man who had his EBT card stolen at the nearby Portland Value Inn at 1707 N.E. 82nd Ave.
Police said Hayes fled when they encountered him and he was shot and killed by Officer Andrew Hearst outside a home on Northeast Hancock Street. According to the state medical examiner, three shots hit the teen, but none stuck him in the back, disputing reports on social media. A replica gun was found near Hayes, police said.
Hayes' mother, Venus attended the vigil and called for the community to come together in mourning and to honor the life and light that Quanice brought to those near to him.
She asked at the public not to speculate on the circumstances of the death, but instead to offer information to the American Civil Liberties Union of Oregon and with internal affairs detectives with the Portland Police Bureau.
Mayor Ted Wheeler promised a thorough investigation
"When the person who is killed is a black teenager, it taps into deep historical wounds; we can't sit here today and ignore what's happening across our country. I'm not assigning blame. I'm not assigning judgment today. ... What I am doing is this: I'm affirming that the events that happened here in Portland are happening all too often," Wheeler said.