International Films to Enjoy in Final Days of PIFF
Darlene Ortega | 2/21/2017, 4:13 p.m.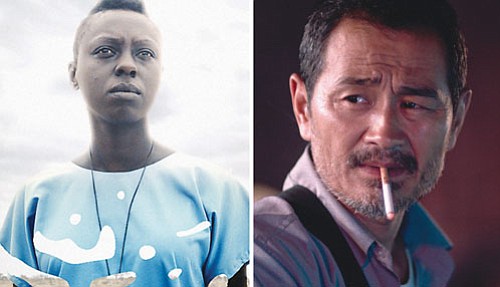 As the Portland International Film Festival draws to a close, it looks like I will catch at least 40 screenings. Here are five films that are among those you can see in the final days of PIFF:
"Kati Kati," a Kenyan/German production set in the afterlife, is one of the most intriguing films I've seen at PIFF this year. It opens with a young woman wandering in the Kenyan grasslands. She walks onto the grounds of a resort with about 20 other young Kenyans, and one of them informs her that she has arrived at Kati Kati, and she is there because she (like the other residents) is dead. Her predictable attempt to run reveals that isn't an option. Apparently unlike the rest, the young woman, Kaleche, has no idea of her own history or life, and her questions frequently don't elicit answers that satisfy. It's a smart choice for the filmmaker, who keeps us in a state of emerging consciousness that helps us empathize with these souls, who need to make a transition but fight to understand what and how. Their world contains enough details to feel real, but the director still leaves a lot unanswered, so that we, like Kaleche, are left to struggle to find what progress from this place requires and will mean. It's a remarkable first feature for director Mbithi Masya, and plays again on Wednesday, Feb. 22.
"Maliglutit" seeks to be a western, but one faithful to the life of Inuit people. Inspired by the classic John Ford film, "The Searchers," it immerses the audience in the life of a family in the Arctic who experiences a brutal attack and must fight back to survive. The conditions and lifestyle here will be utterly foreign to most American audiences, which is part of what makes it fascinating viewing; acquiring and eating food, building shelter, and sharing family intimacies demand full-body absorption, and perhaps as a result, dialogue does not drive this particular story. Impressively staged and filmed, this is a fascinating visit to what may feel like a different planet. It plays again on Thursday, Feb. 23.
"Apprentice" opened to good reviews at the Cannes Film Festival and is the second film of a young Singaporean director, Boo Junfeng. Its focus is Aiman, a stoic young prison guard who becomes the protégée of the prison's executioner, Rahim. The tight focus on Aiman, who lives with an older sister whose objection to his prison job gradually becomes apparent, and on the realities of working inside, opens space to contemplate the toll that such works takes on those who carry it out, and the little stories we tell ourselves in order to survive (or avoid) the larger impacts of our own actions and the actions of others which irrevocably alter us. It plays again on Thursday, Feb. 23.
"The Olive Tree" is a crowd-pleaser, with its story of Alma, a young farmer who is fiercely devoted to her gruff grandfather, who was fiercely devoted to a 2,000-year-old olive tree that Alma's father and uncle sold against his wishes when she was a child. As her grandfather disappears further and further into dementia, she vows to locate the tree and, against all logic, promises to bring it back to the family land. The film sounds appealing notes of respect for nature and one's literal and metaphorical roots, and is well-acted and produced. The script, however, is predictable and doesn't bear the ring of emotional truth; the family conflicts are too crudely presented, Alma's love interest is under-developed, and there is a predictable corporate bad guy. Enjoyable only if you don't think about it too hard. It plays again on Thursday, Feb. 23 and for a special encore on Sunday, Feb. 26.