Powerful Exhibit
'Kin Killin' Kin' focuses on youth and gun violence
2/21/2017, 4:31 p.m.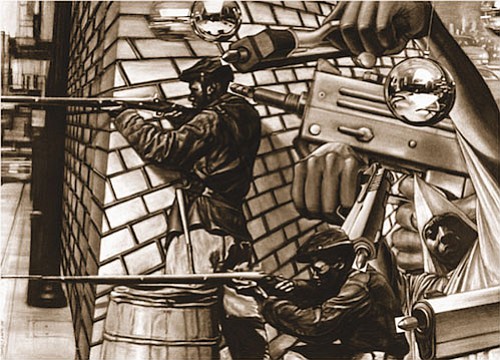 "Kin Killin' Kin,' a visually powerful and thought-providing exhibition that focuses on youth and gun violence opens this week at the Interstate Firehouse Cultural Center at 5340 N. Interstate Ave.
The nationally recognized collection of paintings by African American artist James Pate of Dayton, Ohio, combines the iconography of the Ku Klux Klan and the Civil Rights Movement with contemporary images to take the viewer into the complex territory of the causes and conditions that lead to youth and gun violence. He considers his work, "A call to action." Due to strong images, the exhibit is not recommended for children 12 and under.
Free and open to the public, the exhibit runs through April 2, opening Wednesdays through Fridays from 3 p.m. to 7 p.m., and on Saturdays and Sundays from 1 p.m. to 5 p.m. An opening reception will be held Friday, Feb. 24 from 6 p.m. to 8 p.m.
"Kin Killin' Kin" is sponsored by PassinArt, Portland's non-profit African American producing theater company, along with the Collins Foundation, McKenzie River Gathering Foundation, Meyer Memorial Trust, Marion and James Miller Foundation and Ronni LaCroute.