13 Trump Protesters Arrested
2/22/2017, 2:30 p.m.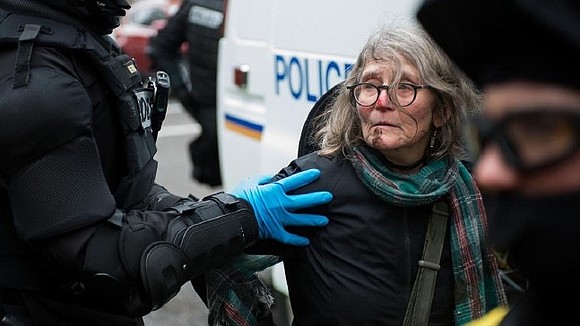 Tensions are running high between Portland protesters, the mayor, the Police Bureau and the American Civil Liberties Union of Oregon after two "Not My President" protest marches were held downtown on Monday, President's Day.
One permitted protest, sponsored by Basic Rights Oregon, Causa and several labor unions, took place without incident. A second unpermitted march organized by Don't Shoot Portland, ended with 13 arrests.
One female protester, a senior citizen, was left with a bloodied face and broken nose, after apparently rolling on the ground with a police officer. In another confrontation, documented by citizen journalist Mike Bivins, a woman angrily confronts a row of police officers in riot gear and an officer fires two rubber bullets into the woman's torso at close range.
ACLU Oregon legal director Mat dos Santos said in a statement released 5 days earlier: "Portland's protest policy should emphasize restraint, de-escalation, and the use of force only as a last resort to ensure public health, safety and welfare."
Police spokesperson Pete Simpson responded, "We certainly understand that not everyone agrees with police presence or response to protest events. We encourage people with commendations or complaints about officer conduct to send them to the Office of Independent Police Review."