Empowering Youth to Serve
SEI kids give back on day of service
Felicia Slider | 2/22/2017, 1:56 p.m.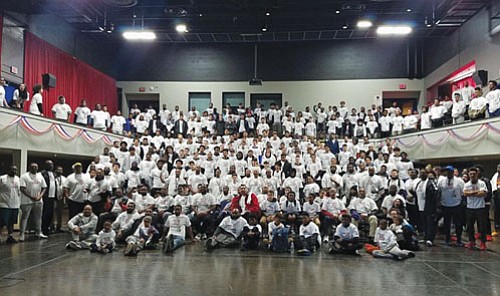 Hundreds of youth, male and female, near and far, collectively volunteered for the Center for Self Enhancement, Inc.'s Community "Day of Service."
The seeds of SEI, an educational program serving Portland's African American community, were planted over 35 years ago and rooted in community service. The organization uses a culturally-based curriculum to educate and empower youth into tomorrow's citizens. One recipe to that successful sauce is to empower young people to become the living legacies to their communities. Mixed and served by the enlightenment of education, marinated with the excitement of social engagement, the students learn as the late Muhammad Ali so movingly said, "Service to others is the rent you pay for your room here on earth".
The SEI elementary to high school student volunteers, alongside their adult leaders were dispatched on Saturday, Feb. 15 to over 15 neighborhood sites for community service projects. From feeding the homeless to the beautification of neighborhood homes, the SEI kids showed up and served.
The students, guided by Helen Keller's words, "Alone we can do so little, together we can do so much," first gathered at the school to hear from SEI Founder Tony Hopson Sr. and his staff who briefed them on the plans for the day's departure and duties.
"I just thank SEI for letting me and my peeps make a difference, make something happen for the people who really need this help," one student said. "It was so cool to lend a hand to people that really need help in our neighborhood."
"Volunteering made me proud to make a make a difference in someone's life, especially when you know they need the help," said another young person. "Today was life changing for me."
The dedication erupting from the student's synergy was dynamic, and bonds were built.
The SEI Day of Service taught the youth about the difference one day can make to a community it serves, as Dr. Martin Luther King once said, "Everyone can be great because anybody can serve."