Drum Major Ecumenical Service
Panel discussion to highlight MLK celebration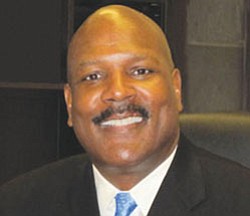 One of the oldest African American congregations in the state, the Vancouver Avenue First Baptist Church, will host people of faith from across the state this weekend to honor of the late civil rights leader Dr. Rev. Martin Luther King Jr.
The two-day commemoration of Dr. King's work for justice, peace and righteousness will begin Saturday, Jan. 14 with a noon luncheon in the church fellowship hall to honor students and community members who live their lives in the drum major spirit of King; and conclude with the annual Drum Major Awards and Ecumenical Service on Sunday, Jan. 15, from 2 p.m. to 4 p.m. in the church's main sanctuary, 3138 N. Vancouver Ave.
Pastor J.W. Matt Hennessee will lead the service. Pastor E.D. Mondainé will sing the African American National Anthem, and Gov. Kate Brown and new Mayor Ted Wheeler will share a few brief words. A special focus will be a panel discussion, "Where do we go from here," led by moderator Bill Deiz.
It has a been a tradition at the Drum Major celebration for a keynote speaker to address the congregation, but when Pastor Hennessee saw the fears, anger and sadness which have risen in the community since the recent presidential election, he decided to address them with a panel of speakers to cover a diverse cross section of community and city leaders.
Members of the panel are Rabbi Michael Cahana from Congregation Beth Israel, Attorney and Portland Urban League President Nkenge Harmon Johnson, U.S. District Attorney of Oregon Billy J. Williams, Portland Police Chief Mike Marshman, Executive Director of Ecumenical Ministries of Oregon Jan Elfers, Director of the Muslim Education Trust Wajdi Said, Multnomah County District Attorney Rod Underhill, Nathaniel Williams of Unify Portland, Lewis and Clark Law student Gregory McElvey from Portland's Resistance, Kim Dixon from Enough is Enough, and Multnomah County judges Nan G. Waller and Adrienne Nelson.
This year's Drum Major recipients are Wajdi Said and the Muslim Educational Trust, JoAnn Hardesty and the NAACP Portland Branch 1120, Julianne Johnson-Weiss and Ecumenical Ministries of Oregon, Lou Radja and EduCongo.
Vancouver Avenue First Baptist Church has a rich history of its active role in the Civil Rights Movement, including hosting historic leaders like Dr. King, Ralph Wilkins and Congressman John Lewis. Pastor Hennessee was a godson to the late Coretta Scott King.
The term "drum major" is found in a sermon Dr. King delivered on Feb. 4, 1968 at the Ebenezer Baptist Church in Atlanta, Ga: "Yes, if you want to say that I was a drum major, say that I was a drum major for justice. Say that I was a drum major for peace. Yes, I was a drum major for righteousness. And all of the other shallow things will not matter. Yes, I won't have any money to leave behind. I won't have the fine and luxurious things of life to leave behind. But, I just want to leave a committed life behind. "
Vancouver Avenue First Baptist's MLK celebrations are free and open to the public. A seat reservation, however, is recommended by calling the church at 503-282-9496. Donations are encouraged and will be applied towards future scholarships.