Dynamic Leader for Justice Emerges
Braving arrest and threats to advance cause
Zachary Senn | 1/10/2017, 3:38 p.m.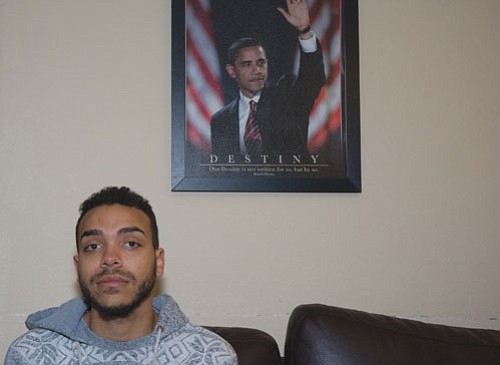 Portland activist Gregory McKelvey is no stranger to confrontations with law enforcement. A 23-year-old grappling with questions of police reform, social justice and inequitable political structures, he has been at the forefront of a community following the path of Dr. Martin Luther King Jr. to advance a more just America.
Thanks to his diverse background in law studies, campaign management, and public speaking, McKelvey is one of the most dynamic and versatile figures on Portland's activist scene. His recent arrest during a Nov. 21 protest march, in which he was charged for disorderly conduct, could mark a new era of non- violent civil disobedience in the Northwest and in the nation as a whole.
In the wake of the presidential election of Donald Trump, McKelvey founded a new activist group called Portland's Resistance to give direction and leadership to local residents and members of minority groups and other organizations opposed to the policies of the pending Trump administration.
McKelvey first became interested in enacting political change at a young age. He was in high school and "super inspired" when Barack Obama first ran for president in 2008, and then the shooting death of Florida teenager Trayvon Martin by neighborhood watchman George Zimmerman in 2012, galvanized his activism.
Following high-school, he decided to pursue a degree in Political Science at Oregon State University. Since his 2014 graduation, McKelvey has worked on a host of local and state-level political campaigns, most recently by serving as the campaign manager for James Ofsink's bid for state Senate.
Speaking of his campaign work, McKelvey states, "My style of running political campaigns was always to get people involved in the issues that everybody's talking about… Through that, I met all of these amazing activists, and kind of became one myself."
McKelvey's activism bloomed, he says, as a result of Bernie Sanders' run for the Democratic presidential nomination and a rally the candidate held at Pioneer Courthouse Square.
"I had the opportunity to meet with him and talk with him about Black Lives Matter," McKelvey says.
It was also the first time he was called on to give a big speech before the thousands of Sanders supporters who gathered for the rally.
"Ever since then, people have been having me speak everywhere," McKelvey explains, stating that he has since been asked to speak alongside the likes of Green Party presidential nominees Dr. Jill Stein and Ralph Nader. McKelvey was formerly an outspoken leader of the group Don't Shoot PDX, which advocates against police brutality through actions of mass civil disobedience, until he left the group to form Portland's Resistance.
"I just met with the mayor today," McKelvey tells the Portland Observer, in an example of the power that can come from protesting. "If I didn't have the power to put people in the streets, these people would never have to meet with me."
McKelvey's immediate plans for Portland's Resistance are a series of targeted protests and civil actions aimed at influencing local and state-level policies.
"We're really focusing on the housing crisis here," he says, adding that forcing regional action on climate change is another priority of the group's opposition to the future Trump administration.
McKelvey laughs off the surprisingly prevalent internet-based conspiracy theories that he and Portland's Resistance are funded by the likes of George Soros.
"Being an activist is not fun. Most of us have jobs or school, most of us are broke, and then we work tons of hours each day for free," McKelvey says, "We're not the lazy Americans. The lazy Americans are the bankers and politicians."
While he views his volunteer work as necessary for making progress for civil rights and racial justice on a local scale, McKelvey has paid personal costs due to his organizing efforts.
"I've lost relationships because of activism," including a former fiancée, he explains. In addition, he says, his work opportunities are now strictly limited to positions in which a highly public persona and lots of political savvy are valued.
"A lot of people think that I love the limelight," McKelvey says, "But the people that work with me know that I don't like it at all. I don't enjoy being the one to get the death threats."
Despite the day-to- day challenges that he and other local activists face, McKelvey says that they will continue their crusades, no matter what, "It's what we feel that we have to do to push for change."
While McKelvy is optimistic about the future of his movement, he understands the very real danger that he faces.
"I will die for this. I think that Martin Luther King was willing to die for what he did, and he knew that he probably would," McKelvey says. "I think that it would be a miracle for me to live my entire life fighting the way that I'm fighting now, and not have something happen."