'Let's Talk' for Racial Progress
Activist gathers voices to promote understanding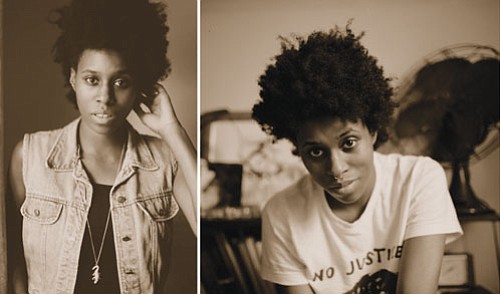 Portland author and photographer Margaret Jacobsen is the founder of a discussion and education group that connects people and focuses on community building to address racial justice issues. The group is called Let's Talk.
Rev. Martin Luther King Jr. once told a crowd of students at Cornell University, "I am convinced that men hate each other because they fear each other. They fear each other because they don't know each other, and they don't know each other because they don't communicate with each other, and they don't communicate with each other because they are separated from each other."
Let's Talk tackles the challenges Rev. King spoke to head on. It began in the summer of 2014 when Jacobsen invited people from across the city to Laurelhurst Park to share their fears, anger, and sadness, and pave a path forward after the police shooting death of Michael Brown in Ferguson, Mo.
A dozen or so meet ups later, Let's Talk has grown to over 700 members in Portland and is expanding nationally. In January, 17 new chapters will open in Austin, Chicago, Cincinnati, Washington D.C., Los Angeles, Long Beach, New York city, Phoenix, Pittsburgh, Reno, Salt Lake City, San Antonio, San Diego, San Francisco, San Jose, Seattle and Calgary, Canada.
Let's Talk meetings are safe spaces where people can work together on deep-level understanding. Through conversations, members learn from one another how to be supportive of people of color, of different genders and backgrounds, while facing uncomfortable truths and dismantling internal prejudices, which may go unnoticed.
"I want us to build a campaign together, a campaign that is for our city, but is also something that can include people from all over," Jacobson told the Portland Observer. "I want to encourage people to commit to showing up, making changes and standing up for the people around them. Let's continue to be uncomfortable together. Remember, we are a community. We have a lot of work to do."
Growing up in Southern California, Jacobsen describes a bubble of ignorance personally experienced on racial issues.
"In random points in my life, where I had encountered racism, I didn't know it, because I didn't have a context. My context was 'Oh, they used to lynch people and they were slaves. Then Martin Luther King Jr. came and all was better. Malcolm X led people to be violent.' It was a weird narrative," Jacobsen said.
Today the race discussion facilitator has learned how bias and prejudice still exists on so many levels, "People don't even know that they're being racist. They think they are genuinely not, because we were all taught the same story in school."
Starting a family as a young millennial, Jacobsen began to think of how racism would impact the children and what kind of culture and community would give future generations of African Americans strength and a healthy sense of identity.
Jacobsen began writing for national publications to explore the narrative of black history and what realities young parents and their kids face.