Live-Streaming for Political Change
Activist documents Trump protests worldwide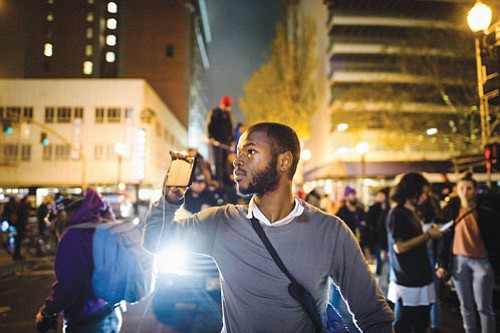 We carry the images of the Civil Rights Movement with us. The historical battle to advance equal rights for all awakened a country to the struggles of African Americans. In the wake of the recent presidential election in which an attack on immigrants, Mexicans and Muslims played such a prominent role, local activist and executive director of Know Your City, Cameron Whitten has taken up the tradition as a citizen journalist by live-streaming an activist community responding to the latest political events shaping our era.
The way we remember Dr. Martin Luther King Jr. and others who fought for equality, including equal opportunity in employment, housing, and education, as well as the right to vote and the right of equal access to public facilities are through powerful images captured by newspaper photographers. Black and white photographs of firemen turning their hoses full force on the bodies of demonstrators in Birmingham, Ala. in the summer of 1963 still haunt and shape our history. The 1968 sanitation workers strike of Memphis, Tenn., with black men marching down Beale Street wearing porkpie hats, well pressed suits and ties, carrying signs which read the rallying cry "I Am A Man" still stirs emotion today.
From 1954 through 1968, it was common for Americans to see daily images of the Civil Rights Movement on the front page of their newspapers. Dr. King knew the power of the image to soften hearts and change minds. Those photographers helped spread Dr. King's message: "Love is the only force capable of transforming an enemy into [a] friend."
Today's historic moments aren't recorded by newspaper photographers alone. Using smart phones and social media, everyday citizens are documenting and sharing instantly across the world the events as they happen.
Two days after Donald Trump was elected the next president of the United States, thousands of Portlanders filled the streets downtown to voice their concerns. Heading an organization which seeks to preserve and share Portland's history, Whitten was among them. He live-streamed the protests as they continued daily for a week. Thousands of people from around the world tuned in.
Whitten described the protest participants as more diverse and younger than he's seen in previous years.
"I saw so many students out there who feel like that their democracy was stolen from them. Millennial voters voted overwhelmingly against Donald Trump and their choice was not honored. I've seen a lot of Muslim activists, which is something I've never seen (in Portland). The Muslim community has been marginalized for so long; it feels like it's easier to be invisible, when you're constantly under a barrage of social-societal attacks. I hear so many Muslim activists coming out and saying: "I'm so tired of being silenced and people creating a narrative of me, that's not my own. "
Whitten shared hours of live video on his Facebook page. He joined the protestors by foot and sometime zipped around to different areas of the city by bike to catch different events as they happened.

So many people watched his reporting that he couldn't keep up with the comments on the video transmissions. As with most Internet comment sections, there was a sharp divide between angry and supportive words.