Mayor to Speak at King Observance
Mayor to Speak at King Observance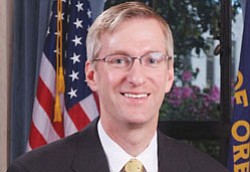 Mayor Ted Wheeler will be the featured speaker at the annual Rev. Dr. Martin Luther King, Jr. observance on Sunday, Jan. 15 at 4 p.m. at Maranatha Church, 4222 N.E. 12th Ave.
The newly elected mayor is scheduled to give the talk "Now More than Ever" to recognize that the "end" of the Civil Rights era did not end the need to speak out and witness for equality for all people.
The "Black Lives Matter" movement and the demonstrations of Native American tribes against the invasion of oil pipelines on treaty lands and rivers have raised awareness that people of color still in areas for equal justice and civil rights. Church leaders point to an atmosphere of outspoken racism and religious phobia that have prevailed recently in some quarters.
"Citizens are seeking public forums to express support for increased racial awareness and tolerance which Dr. King espoused. Now is the time to say that violence, hate speech, and other persecutions of people of color will not stand," organizers said.
The Maranantha Church commemoration will include music from the Maranatha Choir, speeches from other community leaders and a call to prayer for our nation for all people of faith.
For more information, call the Rev. Joyce Smith at 360-600-3579 or email her at jsmith4077@aol.com.