A Refuge for Immigrants in Uncertain Times
Pastor leads movement for social justice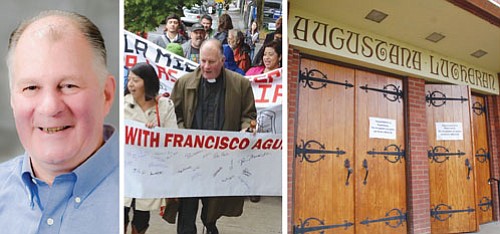 Pastor Mark Knutson is a national leader in a movement for social justice for immigrants struggling to obtain legal status in the United States. Northeast Portland's Augustana Lutheran Church, a multicultural congregation where he serves as a spiritual leader, is one of the few churches to provide sanctuary for immigrants in fear of being deported.
When a Portland resident and immigrant named Francisco Aguirre was being pursued by federal immigration authorities, Knutson and his church reached out to provide him protection.
After 81 days of living in the sanctuary of the church, Aguirre returned home to his wife and two small children. It was one of few cases in the last decade where a church has offered physical sanctuary to a foreign-born person without documents to be in the U.S. or who has stayed beyond the expiration date of a visa.
"As faith communities we have to always follow what we preach," Knutson said. "Love. Be as gentle as doves, but as wise as serpents. Be ready to confront challenge. Love, without justice, never works. You have to be ready to march, confront and advocate."
Pastor Knutson was on the coast, presiding over a sea burial, when the call came in that Immigration and Customs Enforcement (ICE) was attempting to deport Aguirre. Without hesitation, he told his staff to take Aguirre in. Aguirre spent the first night sleeping on the red carpeted church altar, a place where Knutson celebrates communion with his congregation and delivers sermons many times on weekends.
ICE is the country's second largest criminal investigative agency, next to the FBI under the Department of Homeland Security. Once an immigrant enters the U.S. without visas or other official channels, they are legally considered criminals. Since the 1970's many Central and South American citizens have fled oppressive and violent governments; not all of them can afford or wait out the long process to enter the United States legally. Some of them must move quickly to avoid being killed by violent factions or drug cartels in their home countries.
Knutson learned firsthand through Aguirre's showdowns in federal court and the battles with local and national media what it takes to provide safe keeping for immigrants who face deportation by ICE.
"It's a big commitment for the person doing it," he told Portland Observer. "The courage is not the congregation; the courage is the person who goes into the sanctuary. You've got to be public about it, you're not hiding somebody. They are coming to live here, while you work things out."
In the early 1980's a group led by Jim Corbett, a Quaker, formed a series of sanctuary churches in Texas and the Southwest to help immigrants fleeing violent countries and who were at risk of deportation by the United States back to uncertain futures.
The network of churches was based upon a 19th century system called the Underground Railroad which gave safety to escaped slaves from Southern plantations as they made their way to the free states in the North. Jim Corbett and the others who launched the Sanctuary Movement to help Central and South American refugees were brought to trial but exonerated of committing any crime.
By the early 1990's the Sanctuary Movement had died out. In 1996, shortly after Pastor Knutson arrived at Augustana Lutheran, he declared the church a sanctuary to provide a safe place for undocumented women in abusive households. By doing so, Augustana became one of the first churches to create a new Sanctuary Movement. Since that time, it's estimated that churches have helped at least 15 undocumented persons across the country by giving them sanctuary.
Pastor Knutson's wife is African American and he knows Portland's black community well. His work has been to build a multi-national, multi-generational congregation. The people who fill Augustana's pews each weekend reflect his dedication. There's as many 65 year olds, as millennial; a cross section of every shade of color; LGBTQ members join in prayer; a group of Native Americans practice their spiritual traditions in a neighboring room.
The mixed-use church is also home to social justice organizations, The Community Alliance of Tenants, Wells Art Institute, Familias en Accion, the Interfaith Movement for Immigrant Justice and more.
Pastor Knutson has some advice for other places of worship who are considering becoming sanctuaries for undocumented immigrants, "You are not by yourself. You are part of this bigger movement of people of faith, Christian, Jewish and Muslim who want to keep families intact on the path to citizenship. I encourage churches just to do it. The key is to cultivate lots of relationships in the community. That's ongoing for any justice work, right? You cultivate as a congregation lots of relationships. Even if you're not ready, the resources will follow."
A host of churches, schools and universities in Portland have pledged to be a sanctuary for immigrants since the election of Donald Trump as president who ran a campaign against undocumented immigrants from Mexico and Muslim refugees for war torn countries in Africa and the Middle East.
Under the law, there is a tradition in Judaism, Christianity and Common Law of respecting sanctuary and the right of habeas corpus. But, tradition is not a legal precedent or a binding legal agreement. In the broadest terms, declaring sanctuary means that local law enforcement, jails and politicians will not cooperate or give resources in helping federal authorities arrest and deport immigrants.
"The bigger piece to sanctuary is that God created the world and intended it to be a place safe for human beings, Knudson said. " We don't live the world that way, so that's why we have to create sanctuaries in the mean time. Until the world is the sanctuary God intended, we have to do it in smaller spaces."
Pastor Knutson works with churches all over Oregon and the national organization Church World Services to promote and provide information about sanctuary churches.
His advice to Portland residents who want to help is to support sanctuary churches and to get to know your immigrant neighbors and let them know you are there for them.
"That's the number one thing right now in this society. Reach out. Given the direction we could go, not just Latino neighbors, but also Muslim neighbors. Immigrant neighbors from other places may feel under siege. That could be the blessing in this, a very scary time, if people start reaching out to each other, our communities become stronger, and that's big. That could be what we should be doing anyway. "
Right now ICE will not move into churches or hospitals, but Pastor Knutson believes that could change under Trump's presidency. He observes that schools and universities haven't had hands-on experience being sanctuaries, yet. He says they still have to figure out how that will work for them.
Pastor Knutson believes the local and state governments must help reinforce the sanctuary values, "We need to keep having that strong conversation around race, culture, gender, inclusiveness, and equity," he said. "If you look at the people who are being deported they're from Central and South America, Syria and Haiti. These are issues of race. This is an issue where we, as Oregonians and Portlanders, can say, we are not going backward."