Role Models of Color
County achieves first majority minority board
1/10/2017, 2:11 p.m.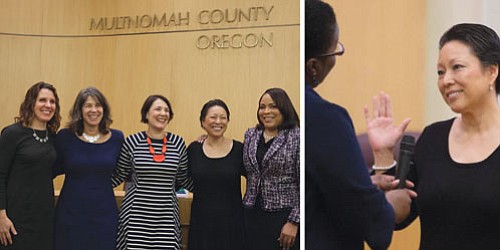 Multnomah County ushered in the New Year by welcoming three new commissioners to its board and setting a new bar for diversity in representative government with every elected member of the commission representing a minority group, the first time that has ever happened.
Sharon Meieran, who represents west Portland, was sworn in along with Jessica Vega Pederson, who represents east Portland, and Lori Stegmann, who represents east Multnomah County and Gresham. They join incumbent Commissioner Loretta Smith, who represents north Portland and Chair Deborah Kafoury, who leads the board.
"This is a milestone," said Stegmann. "As an immigrant, as a minority woman, as someone who grew up in Rockwood, one of the poorest neighborhoods in Oregon."
Stegmann is the first Asian American elected to the board. She was adopted as a baby from South Korea and raised in a low-income family. Her father worked as a logger and her mother cared for the family. She still remembers the stigma of receiving food stamps, sticking actual stamps to a card in what was like a shameful version of Bingo in exchange for blocks of cheese, powdered milk and other donated foods.
"Why is there so much shame in being poor?" she wonders. "Often times you don't have anything to do with it."
Growing up in the 1970s, Stegmann said she wanted to be like Marsha Brady of the Brady Bunch TV series, blond and fair skinned.
"When I was growing up, I didn't have any role model of color," she said.
That has changed. Stegmann grew her own business as an insurance agent, bought a house in a middle class neighborhood, and raised a daughter, who at 18 can now see a woman serve as Gresham's police chief, women lawmakers in both her house and senate districts, and now her mom in county government.
Stegmann wept as she reflected on what her election might mean for residents who feel unheard or unseen.
"My election isn't about me. It's about my community, East County," she said. "Their voices. Their concerns."
Stegmann plans to work on finding solutions to homelessness, the rising costs of housing, and disparities in criminal justice. She supports programs such as the Law Enforcement Assisted Diversion pilot launching this year in downtown Portland which will divert drug users from arrest to recovery.
The Multnomah County Board was entirely white and male until 1974, when Alice Corbett -- a former teacher, hardware-store owner and state senator -- was elected. Gladys McCoy, a social worker from Georgia, was elected in 1978, the first African American member of the board. And in 1987 voters ushered in the first all-women board. The commissioners included Gretchen Kafoury, mother of current Chair Kafoury.
Deborah Kafoury remembers as a girl her mother talking about how she was treated as a first-term legislator in the state House of Representatives. "People would call her sweetie, and honey and pinch her butt," Kafoury said.
Gretchen Kafoury dedicated her adult life to getting women elected to office, as co-founder of the Oregon chapter of the National Organization for Women and later the Oregon Women's Political Caucus.