Reclaiming the Dream
Show of diversity's strength amid fears of setbacks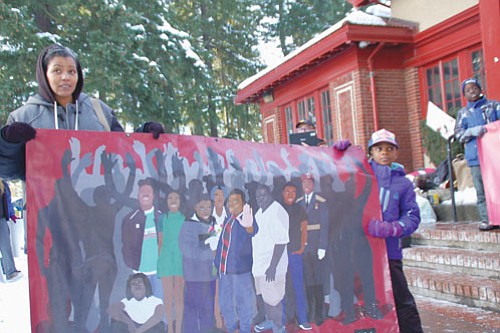 On Aug, 28, 1963, Dr. Martin Luther King Jr. delivered one of his most memorable speeches as a quarter of a million people gathered around the Washington Monument, "I have a dream that one day little black boys and girls will be holding hands with little white boys and girls," his baritone voice rang out. On Sunday in Portland, as the city celebrated the annual Martin Luther King national holiday, MLK's dream for racial equality and harmony in America saw the reality of progress as a diverse group of mostly families with children came together and joined hands to advance the arc of justice.
Nearly 100 people braved freezing temperatures, a foot of piled snow and solid inches of ice for a rally at Peninsula Park in north Portland and a march to the MLK statute on Martin Luther King Jr. Boulevard at the Oregon Convention Center.
Sponsored by the organization Don't Shoot Portland, which was formed three years ago as a response to police-involved shootings of African Americans across the county, the atmosphere was calm and empowering.
Participants brought signs that read Black Lives Matter, White Silence is Violence, Rebellions are Built on Hope, and Say Their Name. There were inspiring songs such as Gil Scott Heron's "The Revolution Will Not be Televised" and Curtis Mayfield and the Impressions' gospel hit "People Get Ready" played from a boom box.
Karen Haberman Trusty kept her arms deep into her pockets and shuffled her feet to stay warm. A member of the Student Non-Violent Coordinating Committee (SNCC) during King's civil rights era, Trusty participated in lunch counter sit-ins for desegregation for which she was arrested and spent some time in jail. A lifelong activist engaged in social justice work, she was awarded the Martin Luther King "Lifetime Achievement Award" in 2010 by Portland's World Arts Foundation.
"To me, Black Lives Matter is the new SNCC," she told the Portland Observer.
Her friend, Margaret-Ann Jones, a retired social worker and long time queer advocate who teams with other individuals and groups to build bridges and empower people across boundaries of color, age, and gender, gave a shout out to a black woman with a tiny jeweled crown and a silk sash which read Miss Idaho 2015-2016."

"I can't believe that a woman of color was made Miss Idaho," she exclaimed.
The Portland Observer asked the title holder, Tamika Jefferson ,what brought her to the march and she confidently replied that the event was a perfect opportunity for her to help keep Dr. King's legacy alive.
Teressa Raiford, founder and lead organizer of Don't Shoot Portland, announced on a red and white bullhorn: "Mic check, mic check. We're going to begin the march at 2 p.m." Quiet and composed, Raiford's presence was a surprise to some of the folks gathered, as she's been contending with some health issues in the recent week.
Raiford unveiled a 3 by 5 foot multicolored banner with images depicting a group of black people who have been killed in deadly force police incidents, such as Michael Brown of Ferguson, Mo. and Sandra Bland of Waller County, Texas. The banner was designed by a young student named Mia at De La Salle North Catholic High School.