Building a Stronger Community
Artist to serve at Emerson House
1/18/2017, 5:12 p.m.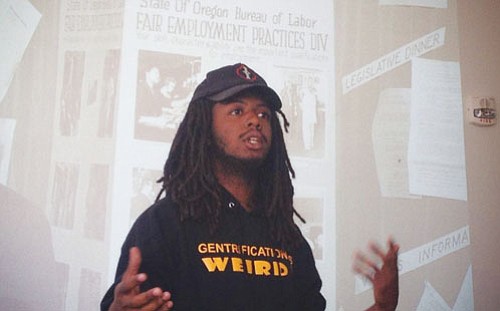 There's a new neighbor in northeast Portland's King Neighborhood and he's looking to shake things up with his appointment as the inaugural director of the DIY Artist-and-Residency Program at Emerson Street House.
Journalist and creative Donovan Smith will helm the curation of the arts at Emerson's gallery space. Emerson Street House is a new program centered on creating sustainable, strong communities through arts and education. The organization offers innovative strategies and programming through the arts designed to create greener, safer, and stronger models for neighborhoods.
"We couldn't be more happy to have Donovan and his unique talents and deep roots throughout the city as part of the community we're creating here," says Diane Freaney, Emerson Street House owner.
A former award-winning reporter for The Portland Observer and The Skanner, and founder of clothing brand Ignorant/Reflections , Smith has grown a following for his " Gentrification Is WEIRD!" themed projects and clothing line .
He knows the importance of the arts and information in building strong communities.
"We can talk about affordable housing, but ultimately what we're talking about with gentrification, or 'new Portland' vs. 'old Portland' is the loss of communities," Smith says."Whatever's been happening before, hasn't been working. The Emerson House, is offering itself to as a ground-zero initiative, for strategies to fortify our neighbors and neighborhoods, through connecting the gaps in communication between companies, developers, non-profits, and our neighbors."
A fourth-generation northeast Portland native, Donovan attended nearby King School throughout his elementary years, before continuing his education at the renowned Oregon Episcopal School for his middle and high school years. Located at Northeast 10th Avenue and Emerson Street, Emerson Street House is centered exactly a block away from the childhood home of Smith's mother.
Since returning to Portland in 2012, after a brief stint at Fisk University in Nashville, Tenn., Smith 25, has emerged as a leading voice in the fight against gentrification, and the arts.
Already under his direction, the Emerson House has been accepted into Design Week Portland's open house tours for April, and will be exhibiting the works of Julie Keefe, primary photographer for The Skanner, fresh off of her latest showing at the Oregon Historical Society.
For more information, contact Donovan Smith at dmsmith106@gmail.com or 503-756-6128.