In Loving Memory
Gladys Mae Waters
1/24/2017, 5 p.m.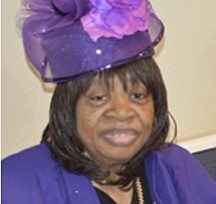 Funeral services for Gladys Mae Waters will be held Friday, Jan. 27 at 11 a.m. at True Vine Missionary Baptist Church. Viewing will take place Thursday, Jan. 26 from 4 p.m. to 7 p.m. at Terry Family Funeral Home.
Gladys was born Dec. 2, 1952 in Picayune, Miss. to Jessie and Rubie Lee Waters. She graduated from Picayune Memorial High School and received her certification in early childhood education from Portland Community College. She worked for Albina Head Start for over 40 years and worked at the jewelry counter at K-Mart for 20 years.
Gladys was with Jimmy Stevens for 7 years and Donnell Smith for 21 years.
She loved the Lord, her children, and her grandson. She gave selflessly to all she encountered, a compassionate, loving, and caring woman of integrity, strong will, tenacity and grace. She would overcome a challenging situation with a smile, while nurturing, encouraging, and motivating others along the way. She had many gifts and talents. She was good with finances and projection planning. She loved family gatherings, and to sing in the choir.
Gladys served as a director of the choir at Greater Faith Baptist Church, a board director of Inspired Aspiration, Inc., a founding member of the advisory council for Juneteenth Oregon, and a volunteer for the Black United Fund of Oregon, Urban League of Portland and Portland Rescue Mission.
She was preceded in death by her parents and a sister, Ocie Durr. She leaves to mourn three daughters, Tisha (Johnny Stigler), Cottina Waters, and Saniecela (Nick Fewkes); a grandson, Jeremiah Stigler; three sisters, Evelyn (Richard Marks), Karen Waters (Clifford Green), and Georgia Lee (James Bender); three brothers, Jesse (Willa Mae Waters), Arthur Jones (Margot), and Ezell Waters; and a host of other relatives and friends.