Constructing Identity
African American masterpieces on loan
1/25/2017, 1 p.m.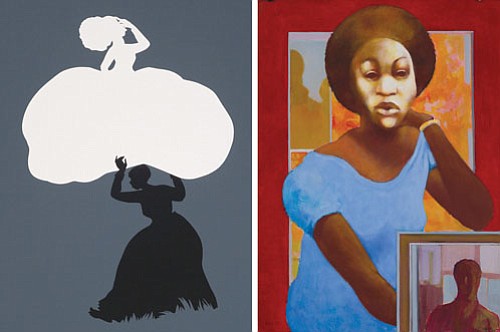 A rare opportunity to view African-American masterpieces opens this weekend at the Portland Art Museum. The show called Constructing Identity brings together paintings, sculpture, prints and drawings by prominent African American artists from the past and today.
Works by Harlem Renaissance artists John Thomas Biggers, Romare Bearden and Norman Lewis will be on view as well as a vibrant cross section of contemporary artists such as Sonya Clark, Radcliffe Bailey and Mickalene Thomas.
A highlight of the exhibit will be work by artist and teacher Kara Walker, a MacArthur Foundation art genius, whose paper cut silhouettes have been sparking thought-provoking discussions in galleries around the country since she first showed them 23 years ago.
Constructing Identity confronts the legacy of slavery while it celebrates the beauty, compassion, strength and persistent culture of African Americans. The works are part of the Petrucci Family Foundation, a collection of art to bring focus to the full range of African American art and its essential place in the history and discourse of American art.
As part of a growing and more thoughtful dialogue about the African American experience through art, the collection seeks to visually represent themes that speak not only to the African American community, but also to the broader American community.
Constructing Identity will be showing at the Portland Art Museum, 1219 S.W. Park Ave., opening Jan. 28 and continuing through June 18. The show is accompanied by a catalog, an all-day symposium in February and additional programs and community partnerships. Check the Portland Museum's website for upcoming events at portlandartmuseum.org