Everybody Reads on Homelessness
Copies of 'Evicted' now available
1/25/2017, 12:42 p.m.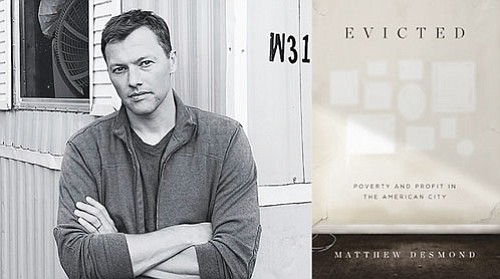 Multnomah County Library's Everybody Reads, the 15th annual community reading project, is underway with the library distributing thousands of copies of "Evicted: Poverty and Profit in the American City" by Matthew Desmond.
Desmond's book portrays the issue of eviction — and its cascading effects on individuals, families and communities — through the personal stories of landlords and impoverished tenants.
Everybody Reads brings people together to examine how to address issues together and create the kind of community in which we all want to live.
"As the destabilizing impacts of homelessness and a lack of affordable housing reach into the lives of more and more people, we can see that a clean and decent home is like a vaccine against other problems," said Desmond, in describing the subject of his book.
Thanks to The Library Foundation, more than 5,600 copies of Evicted are available through libraries across Multnomah County, including e-books and audio books.
Dozens of Everybody Reads discussions, lectures and related programs will also take place at libraries and elsewhere in the community, including book groups, renters' rights workshops, a poverty simulation and explorations of activism in support of affordable housing. The acclaimed author will speak in Portland on March 9 at 7:30 p.m. at the Arlene Schnitzer Concert Hall. Tickets available at the event sponsor, literary-arts.org