Resistance
Discontent with a Trump Administration
Zachary Senn | 1/25/2017, 9:57 a.m.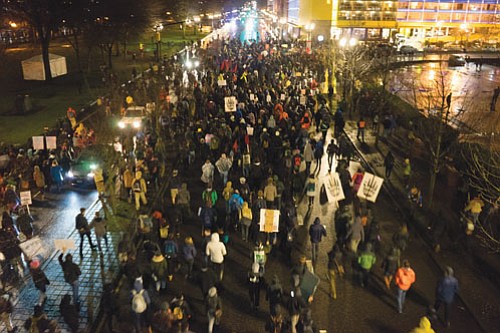 A myriad of community organizations and tens of thousands of individuals took to the streets in downtown Portland for a weekend of protests after President Donald Trump's inauguration on Friday in Washington, D.C.
From contentious stand-offs between demonstrators and Portland police on the night of the inauguration to a peaceful crowd of as many as 100,000 people participating in Saturday's Women's March on Portland, one of the largest protests ever seen in the city, the voices raised sent a decisive message that a broad coalition in Portland is prepared to resist the newly installed Trump Administration.
Gregory McKelvey, the 23-year-old leader of Portland's Resistance, one of the chief organizers of Friday's demonstrations along with a group called Direct Action Alliance dubbed the action an event to "Rise Up and Resist Fascism," according to the event's Facebook page. He told the Portland Observer another primary objective was to build community ties and meet with people who share common political values.
The first protest started to form downtown in the early afternoon just after Trump took the oath of office in a ceremony on the steps of the U.S. Capitol. Although the atmosphere by protesters was overall festive as the crowd grew to an estimated 10,000 people, clashes with law enforcement darkened the evening.
On Monday, official complaints by protesters of excessive force by police were made to the Independent Police Review Division. New Portland Mayor Ted Wheeler said he would also review the reports.
Wheeler said he supported demonstrators' right to assembly and their right to free expression, but wanted to limit acts of vandalism and disruptions to transit that marred similar protests in Portland after Trump was elected in November.
But representatives of the Direct Action Alliance on Monday called for the firing of Police Chief Mike Marshman over the tactics police used, and threatened to shut down the city with more demonstrations if Marshman wasn't let go by Wednesday.
Lydia Tate, a 26-year- old Portland resident, said that she joined the Inauguration Day protests to show that she is dissatisfied with the newly elected president and felt the need to show solidarity on behalf of basic human rights for everyone.
"We're here, standing against him," she said as she marched up Southwest Taylor Street.
Speaking as the crowd gathered itself once again into Pioneer Courthouse Square, Louise
Haughen, a 51-year- old Seattle resident, explained that this was the first demonstration she had ever attended. She said she wanted to help sow national discontent with the new president and his administration.
"I think he's racist… And he is going to bring us to war," she said.
Haughen was in Portland visiting family, and said that by participating in a mass rally against the incoming Trump Administration, "We can all protest peacefully, and exercise our rights."
Organizers of Friday's protest also recruited volunteer medics to help with first aid, along with several observers from the American Civil Liberties Union of Oregon, to ensure that free speech rights were not being violated.