Cascade Films Promote Cultural Understanding
African film fest opens with 23 vibrant films
1/31/2017, 3:03 p.m.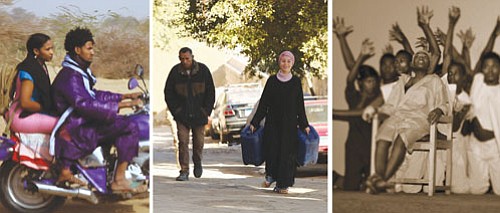 The 27th annual Cascade Festival of African Films takes off this week in north and northeast Portland offering an exciting month of screening 23 vibrant films from across the African continent to inspire a bridge of cultural understanding with the community.
The longest-running annual African film festival in the United States is hosted by Portland Community College with the movies and special events taking place all month in honor of Black History Month and into the first week of March.
Most activities are held at the Moriarty Auditorium on the PCC Cascade Campus, 705 N. Killingsworth St., but a kick-off gala opens the festival on Friday evening at the Hollywood Theater, 4122 N.E. Sandy Blvd.
The African film festival has grown steadily since its inception in 1991 when it had 400 people in attendance. Today, the event attracts more than 5,000 filmgoers every year, bringing acclaimed directors and stars to Portland like actor Danny Glover. The draw is that it allows attendees a peek into the world of Africa through the eyes of Africans.
"In our increasing volatile political climate, it is integral that free and inclusive community events like the Cascade Festival of African Film continue," said Tracy Francis, festival coordinator. "Now, more than ever, we need to open our minds and hearts to understanding different cultures, and create safe spaces for personal and artistic expression."

The mission of Cascade Festival of African Films is to develop an appreciation of the richness, complexity, and diversity of African peoples and their cultures through filmmaker discussions and debates on issues affecting the continent.
Over the years, the festival has built the African Film Collection in the PCC Library into one of the largest in the Northwest. More than 200 African videos and DVDs are available to the public for home viewing at no charge.
This year's festival promises to one of the best yet.
It opens with back-to-back screenings of "Akounak Tedalat Taha Tazoughai/Rain the Color Blue With a Little Red In It" (Niger), a homage to Prince's seminal "Purple Rain." The film – a collaboration between Portland director Christopher Kirkley and actor/musician Mdou Moctar of Niger – will show twice at the festival's opening – night gala.
New to the festival this year will be staged readings of two new African plays: "Fishers of Hope/Tawaret," an examination of the prospects of hope and livelihood in Africa, and "Onions Make Us Cry," a look into the consequences of domestic abuse. Both readings will be paired with short films and take place in Moriarty Auditorium at 3 p.m. and 4:30 p.m. on Saturday, Feb. 11.
Returning to the festival will be a documentary film series each Thursday evening focusing on the power of dissent, and offers Portland audiences a chance to witness how political and economic resistance can be a powerful force for social change. In addition, each Saturday screening during the festival is preceded by the popular "Saturday Social Hour," starting at 5:30 p.m. and features live music, food, and an African marketplace.
For more information on all the festival's screenings and filmmaker appearances, visit africanfilmfestival.org.