No Retreat on Civil Rights
Thousands join black ministers in call for action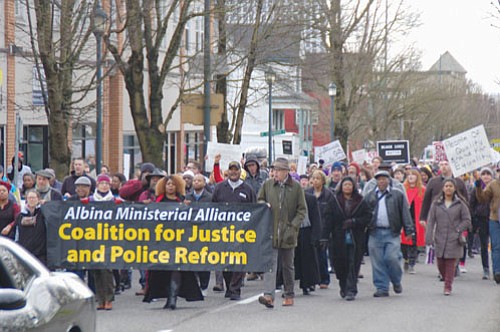 An energized civil rights community in Portland is showing it will not stand down as it pushes for police reforms and faces a new federal government under President Donald Trump that threatens civil liberties of many communities.
Led by ministers in Portland's black community, thousands of people joined the "Advancing Justice and Equality for All Through the Strength of Love" protest Saturday in northeast Portland, starting at the Martin Luther King Jr. statute at the Oregon Convention Center and proceeding two miles north to Maranatha Church on Northeast 12th Avenue .
The event, on the seventh anniversary of the death of Aaron Campbell, an unarmed African American man shot by Portland Police in 2010, was sponsored by the Albina Ministerial Alliance Coalition for Justice and Police Reform, the Portland NAACP, Urban League of Portland, Copwatch and other groups.
The crowd began to swell as speakers fired up the audience with chants: "What do we want? Justice! When do we want it? Now!" Handmade signs in a variety of colors with a multitude of causes filled the space like a sea of paper greeting cards printed in a justice factory.
Leaders from Portland's civil rights community stood shoulder to shoulder to deliver a united message. JoAnn Hardesty, president of the Portland NAACP held a bullhorn to amplify voices; Maranatha Senior Pastor Dr. T. Allen Bethel endorsed the speeches from the side; Apostle E.D. Mondainé swayed the crowd with a gospel song; and Dr. LeRoy Haynes, chair of the AMA justice group, drummed up the crowd with an appeal to move civil rights protections forward, not back.
Rev. Lynne Smouse Lopez from Ainsworth United Church of Christ echoed the sentiment of many to never retreat on equality and justice issues, "Like a tree planted by the water, we shall not be moved," she said.
Grant High School student Dylan Palmer spoke about the history of the struggle for equality and how it must continue forward. Other leaders included Pastor Mark Knutson of Augustana Lutheran, Pastor J.W. Matt Hennessee of Vancouver Avenue First Baptist Church; and City Council Members Amanda Fritz and Chloe Eudaly.
Mothers and fathers carried babies, one who was six weeks old and had already attended two marches. People in wheelchairs joined the protest. Several men held royal blue signs in honor of the National Organization of Women.
Margaret Jacobsen, lead organizer of the Portland Women's March the weekend before, along with citizen journalist Cameron Whitten flanked the marchers. When the crowd reached Planned Parenthood on Martin Luther King Jr. Boulevard a boom of cheers erupted in support of the health clinic. Three women in medical scrubs rushed out of the center and joined the massive crowd.
Dr. Bethel, Dr. Haynes, E.D. Mondainé and Pastor Knutson led the group up the steps of Maranatha, where they were joined by Imam Mikal Shabazz and his wife, representing Portland's Muslim community.
Portland photographer and journalist Julie Keefe had a photo booth where marchers could have instant photos printed, write a message to Donald Trump, and have the photo and statement mailed to the White House.