PCC Names New Board Chair
Thorne-Ladd is first black woman to lead panel
1/31/2017, 3:07 p.m.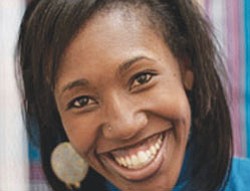 The Portland Community College Board of Directors Thursday named Kali Thorne-Ladd as chair of the board from her previous position as vice chair. She is the first African-American woman to serve as PCC's board chair, and at 39 years old, she is also the youngest.
Thorne-Ladd represents north Portland and portions of Columbia County on the seven-member governing panel.
"I am deeply honored to serve in this role on behalf of the college," said Thorne-Ladd. "PCC is an economic engine for the region, committed to offering equitable access to education and job opportunities for its students. This is a cause I am passionate about, and I look forward to continuing to throw my energy toward this mission and our students' success."
Added Mark Mitsui, president of PCC, "Kali's skills, strengths and experience make her an asset to the board. We are fortunate to have her as part of the PCC team."
Thorne-Ladd is co-founder of KairosPDX, a non-profit organization focused on access to quality early learning opportunities for historically underserved children. She also worked for the City of Portland Mayor's Office as the education strategies director overseeing policy and direction for the mayor's key education initiatives. Her involvement with the college's Future Connect Scholarship Program is where Thorne-Ladd was first introduced to PCC, which prompted her to pursue a board position. She holds a master's degree in Education Policy and Management from Harvard University.
She replaces former chair Gene Pitts who resigned last month from his Zone 6 position, which includes Yamhill County, east Washington County and southwest Portland. Applications are due for the Zone 6 position on Friday, Feb. 10. Interested candidates are encouraged to forward a cover letter, resume and three letters of recommendation to Jeannie Moton, executive coordinator for PCC's Office of the President and Board of Directors, at jeannie.moton@pcc.edu. Visit pcc.edu for additional details.