Fighting for Benson
Supporters rally to save sports programs
Zachary Senn | 7/5/2017, 7:45 a.m.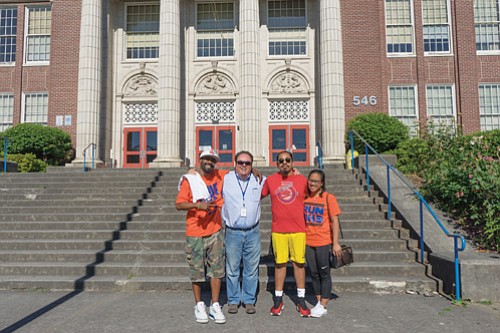 Students and alumni of Benson High School are keeping pressure on Portland Public Schools to continue to fund athletic programs at one of the district's most diverse schools. A group of students and community members gathered in front of the northeast Portland school last week to show their support for school sports. It followed a protest one week earlier before the Portland School Board.
John Slaughter, a Benson alumnus who has coached football and held a number of positions at the high school since his graduation in 1994, says that robust sports programs are essential to maintaining the school's elevated graduation rates. Benson currently boasts PPS' third-highest graduation rate, following only Lincoln and Wilson.
"We all know that kids love sports. It's one of the reasons why many stay in school," Slaughter told the Portland Observer. "It's ludicrous for us to be talking about cutting sports."
More than 70 percent of Benson students are on free or reduced lunch programs, meaning that they come from low-income households. Slaughter said that the school shouldn't have to be fighting for funding to keep its programming in place.
Benson's athletic programs were first threatened in 2014, when proposed budget cuts would have chopped the school's sports teams. That was when Slaughter first began to publicly advocate and organize for the programs.
In a letter sent to the Benson High School community, PPS stated that there are currently no plans to make cuts to the school's athletics division, though did not rule out the possibility for future cuts.
"There is an ongoing process to evaluate these programs," the letter reads. "When the district moves closer to a decision in the coming months, the public will have an opportunity to offer input."
Slaughter, however, isn't waiting to provide the district with his input.
"Instead of just sitting and waiting for those proposals, we want to be proactive," said Slaughter. "There's a threat that the district wants to impose some policy that will take away our sports. Enough is enough."