Beyond White Culture
Diversity at the Oregon Shakespeare Festival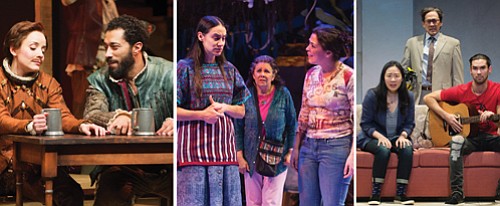 The Oregon Shakespeare Festival has opened all but one of its eleven shows for 2017. Why should you travel down to Ashland to partake?
For all the challenges that living in this state -- and, indeed, traveling to southern Oregon specifically--presents for people of color, some of the best theater anywhere is happening at OSF. We have the opportunity to see the stories of people of color, written by people of color, and featuring artists of color who, as in other fields, otherwise disproportionately struggle for work. Increasingly, OSF is a place where theater casts the vision for living beyond a culture in which white voices dominate and determine what stories deserve telling and how they should be told.
My favorite of this season's plays, unfortunately, closed on July 6 -- but I write about it first because the production will be re-mounted by Portland Center Stage this fall. Its name, "Mojada" is a racial epithet --- in English, it would be "wetback" -- a derogatory term applied to people crossing the southern U.S. border without papers. But the playwright, Luis Alfaro, himself the son of Mexican-American farmworkers, is known for lifting up the voices of the marginalized with sensitivity and insight, and this play goes deep in its exploration of life among Mexican immigrants in Los Angeles. It illuminates layers of trauma and oppression in order to enable a deeper respect.
The subtitle of "Mojada" is "A Medea in Los Angeles," and Alfaro has taken the ancient Greek story of Medea and located it among immigrants fighting to build a better life in a U.S. culture which they experience as alien and hostile. Here Medea is a young undocumented immigrant who sews piecework for a pittance out of her home, and trusts her husband Jason to fight his way to a better life for their family. Their border crossing has left her traumatized and afraid to leave their little house in Boyle Heights, while Jason appears better equipped to play by new rules that seem to reward cunning, ambition, and sacrifice. But what is he prepared to sacrifice, and at what cost?
This production, which I've seen several times and expect to see again in Portland, is devastating in its depiction of how those at the margins are often subtly pushed to turn on each other to compete for the scraps that oppression affords them. Alfaro captures so poignantly the trauma and desperation that commonly characterizes the immigrant experience, and the countless ways in which being othered chips away at one's identity, seeding a sense of desperation that can lead a good person to make choices he or she would never have considered. Medea (embodied with wrenching, prophetic honesty by Sabina Zuniga Varela) is the main tragic heroine here, but she is not the only one; all the characters hold in these portrayals complexities of goodness and moral failure that are the natural result of pressure to conform to new rules that do not invite a full expression of identity. The dilemma creeps into their language, as they constantly process the loss of a former way of life and the new customs that first confound and then convince them of the need for selfishness and greed. It's the American way.