Beyond White Culture
Diversity at the Oregon Shakespeare Festival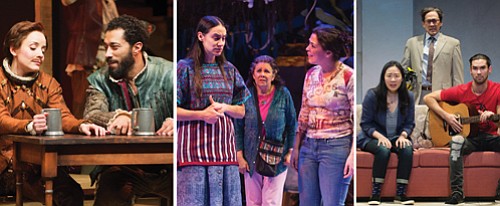 Director Juliette Carillo and her marvelous cast and creative team will move this remarkable production to Portland in November. At a time when our ideas of immigrant and refugee experience and our analysis of the pressures on the marginalized desperately need grounding in deeper reality, this production provides a necessary re-frame. It's worth prioritizing.
The remaining OSF season offers many reasons to prioritize a trip to Ashland as well. For a start, a wonderful production of "Julius Caesar" runs all season through October. Director Shana Cooper has approached this timeless tale of political intrigue from the standpoint of the toll which cycles of violence exact on the human body and soul. Shakespeare's history play is built around power moves and shifting allegiances and manipulation of public opinion that will feel familiar and resonant; this production uses physical movement to emphasize how such shifts are ultimately inevitable and relentless. Fight choreography moves between literal and metaphorical, until eventually actors are killed and rise again moments later to resume fighting. An excellent multiracial cast conveys the stress on their bodies with such visceral force that I felt breathless even watching them. One leaves with an appropriate recognition that war, including the merely political kind, destroys in more ways than we usually recognize.
A fine production of "Shakespeare in Love" also runs all season through October. Riffing off the Academy Award-winning Hollywood screenplay of the same name, this stage adaptation offers an opportunity to see a talented and very diverse cast play and sing and goof on the joy of making theater and on the importance and joy and inspiration of pursuing love wherever and however it materializes. It is perhaps the most broadly appealing of all the shows on offer this season, packed with deftly-executed comic bits and an uncomplicated warm heart.
The world premiere of "Hannah and the Dread Gazebo," by Korean-American playwright Jiehae Park, offers an entirely different lens on immigrant experience. As Hannah prepares to take the exams that will make her a board-certified neurologist, her grandmother's death prompts her to travel to South Korea, where her parents have returned after many years living in the U.S. The play shifts between the perspectives of Hannah and her brother (who live in the U.S. but are accustomed to feeling alien both at home and in South Korea), their parents, whose experiences of alienation weigh on them in an entirely different way, and various mystical South Korean characters. The Demilitarized Zone between North and South Korea provides a potent manifestation of other wounds that arise and lay unresolved in families like Hannah's.

Park's play, nimbly directed by Chay Yew, explores questions of identity, loss, and generational differences in a non-linear and sometimes poetic way that gently serves up questions that we don't think to ask, and that recognizes the value of leaving such questions unanswered. The production features a strong and buoyant cast; I especially appreciated Amy Kim Waschke's stoic and yet surprisingly lovable portrayal of Hannah's depressed mother and Jessica Ko's captivating shifts through a whole host of mystical characters.