Empowered
Madison grows Muslim Student Alliance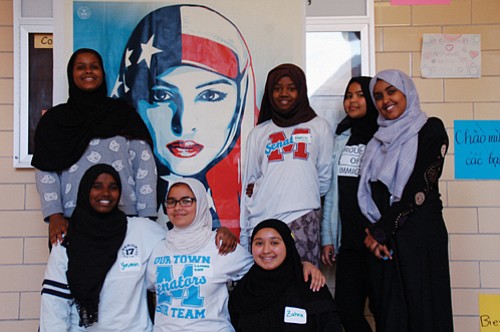 As the work of the Muslim Student Alliance grew, so did the members. The 20 students, both young women and men, are for the most part Somali. Many of them are Muslim, but the diverse alliance welcomes any person who has an interest.
Yasmin Elmi, one of the founders of the alliance told the Portland Observer, "We have grown as Muslims and as human beings together. Last year we weren't as close. People were not proud to be who they are. As we created this club, we've become more proud of what we are and what we believe in no matter what the world is saying about our religion."
The Muslim Student Alliance works with affinity student groups who promote understanding of black, Latino, African and LGBTQ communities, sharing ideas and resources. By making spaces for one another, they've made Madison a more open place for people from all walks of life. They're also gaining leadership skills which will follow them into adulthood.
In January, one week after Inauguration Day, President Trump signed a Muslim travel ban which went into effect shortly after the ink of his signature dried. Much of the immigrant community at Madison was shaken with fear. The Muslim Student Alliance went to work and organized a "teach-in" at the school library. They brought in a volunteer organization to give a presentation called "Know Your Rights." The students learned skills on handling different situations, how to stay calm and collected while moving from fear to resilience.
With the help of a Madison art teacher, the Muslim Student Association designed safety pin buttons which read: "We stand against hate, bigotry and racism." Later that month, as students filled the halls and rushed to their classes, teachers met them at their classroom doors wearing the eye catching buttons. Not only did students feel a sense of safety, welcome and support from their teachers, they were inspired to share the peaceful message even further. The alliance followed up by making hundreds of the pins for any student who wanted one.
The group has hosted a race talk, inspired by a similar event at cross town rival Grant High School, to discuss how issues of race and racism impact them as students and young adults in day to day life. The talk was well attended by both Madison teachers and students, who shared their cultural experiences. A lesson plan was created by the alliance which was shared for teaching in every Madison classroom.
Freshman Ahlam Osman spoke for the alliance by saying, "Part of our mission is to break the stereotypes that people have about Muslims. By setting a good example, we're showing we can succeed, we are a community and we can help other."
The alliance also generated the idea of hosting a multicultural fair at Madison and made it a reality. Over a week, students from different backgrounds shared their culture through dance, food and outreach. It was one of the biggest and most successful fairs that Madison has had.
The Muslim Student Alliance has also stepped outside of the Madison community to establish neighborly ties by volunteering at the Oregon Food Bank. They have a trip planned this summer to help clean up Oregon beaches with the group SOLV.
Yasmin Elmi spoke for the group of young adults by telling the Portland Observer, "As Muslims, we're supposed to be helping each other, feeding the poor, healing the sick. We're helping our community, while fulfilling our practice as Muslims."