Making Amends
Racist past jettisoned in new name for dorm
7/18/2017, 8:22 p.m.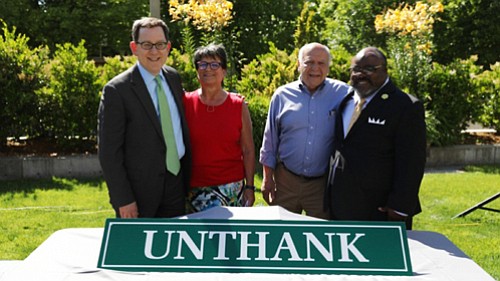 (AP) -- New signs are up at Unthank Hall, the University of Oregon dormitory renamed because of the Ku Klux Klan past of its former nameesake. Friends and family of DeNorval Unthank Jr. of Portland, the first black man to graduate from the UO's architecture school, in 1951, gathered last week to celebrate the name change.
DeNorval Unthank Jr. died in 2000, but the name change ensures his legacy, younger brother Thomas Unthank said.
"I think it is very important for the school to recognize alumni, especially its minority alumni," he said.
In fall 2015, the Black Student Task Force at the UO asked the university to rename buildings that were named for people whose histories were linked to racism. Their request focused attention on Deady Hall, the oldest building on campus, and Dunn Hall, named after a classics teacher at the UO in the early 1900s who was also an "exalted Cyclops" in the KKK.
UO leaders decided to keep the name on Deady Hall. Matthew Deady, supported slavery before founding the UO in the 1800s but later changed his views. They decided to rename Dunn Hall.
Libby Tower, Unthank's daughter, said her father would be amused by having a building he didn't design carry his name. But he would support the reasons for the name change.
"I think it is really more the symbolism of what was Dunn Hall and making a correction for the right reason," said Tower, 63.
After his graduation with a degree in architecture, DeNorval Unthank Jr. stayed in Eugene. During his long career as an architect, he designed buildings on the campus — including McKenzie Hall, the former law school — as well as houses and other buildings around the city and the Northwest.
"His fingerprints are all over Oregon," said Eugene City Councilor Greg Evans, who was a friend of Unthank Jr.'s.
Other notable buildings designed by Unthank Jr. include the Lane County Public Service Building and Kennedy Middle School in Eugene, and Thurston High School in Springfield. He also taught architecture at UO while still working as a professional architect.
A naming committee, which included Evans, picked four finalists earlier this year from 19 candidates who met renaming criteria for the former Dunn Hall. UO President Michael Schill then selected DeNorval Unthank Jr. in May; the UO Board of Trustees made it official in June.