Construction Pains Grow
Second minority business impacted by development
Zachary Senn | 7/26/2017, 3:23 p.m.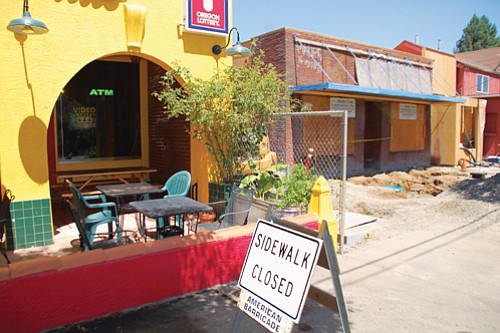 A second minority business is being impacted by a next door construction project in the King Neighborhood of northeast Portland.
The owner of the Catalina Mexican Restaurant, which sits next door to a former key shop that's being redeveloped into another restaurant at 533 N.E. Killingsworth St., says the construction is causing headaches for her business, citing the temporary cut off of water to the restaurant and the lack of access because of construction fencing and other materials.
Last month, Herman and Rickey Brame, the black owners of a commercial property next door which contained a long established barbershop, was forced to move an electrical meter that was in the way of the construction, forcing the longtime minority business owners to make expensive repairs to meet new and updated electrical codes.
Now Catalina Caldera, the owner of the Catalina restaurant, says that contractors have placed a construction fence and sign indicating the sidewalk's closure directly in front of the entrance to her business, "The whole week, we've had no business because of the fence," she explained.
The restaurant had its water shut off unexpectedly by the contracting crew during last Thursday lunch rush, Caldera says.
"They didn't tell me anything. Several customers were asking me what happened, because I locked the door," she explained. "I didn't have water!"
Caldera says poor communication from the owners of the property under redevelopment, Brian Alfrey and Mike Gadberry, the same duo responsible for Northeast Alberta's Radio Room, has made it difficult to resolve the problem.
"I've called the owner three or four times," Caldera told the Portland Observer. "He never answered."
In a previous interview with the newspaper, Alfrey said that he was hoping to respect the neighborhood's heritage and connect with the other business owners as he remolded the property into a new restaurant.
"I've been an East Side Portland guy the majority of my life," Alfrey said. "I'm not an outsider. We're just a couple of guys trying to do some business."