Creating Positive Images
Gallery shines light on historic mural artist
Zachary Senn | 7/26/2017, 3:20 p.m.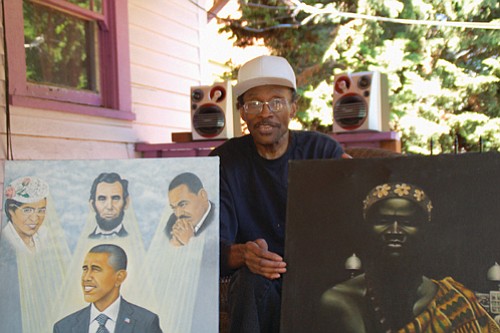 Portland has a rich history of public murals to educate and uplift the African American community, a civil rights tradition that can be traced back 50 years when a "Wall of Respect" mural in Chicago depicted a dozen black heroes and community leaders and inspired black artists around the country to create positive public images in often impoverished neighborhoods.
A new gallery in north Portland will shine the spotlight on one of Portland's most prominent black mural artists of this generation during an exhibit and art show that opens on Saturday, July 29 at GreenHAUS Boutique and Gallery, 18 N.E. Killingsworth St.
Henry Frison was known for his portraits of prominent black figures, especially for five 20 foot by 20 foot murals, part of the Albina Mural Project, long lost to redevelopment at Northeast Vancouver Avenue and Alberta St.
Born in Texas and raised in New Mexico, Frison says he drew his interest in art from a very early age and always focused on people, even though many artists prefer to stick to easier subjects, such as landscapes.
"I love drawing people, because everybody that you draw is a little bit different," Frison told the Portland Observer. "I love the challenge. You've got to try to capture the person."
After his uncle told him about the benefits of Portland's unionized workforce, Frison moved to the city in search of higher wages and better working conditions. At 25, he found work in one of the city's iron foundries. The heavy industrial labor took a toll on the artist, however, and he began to suffer from a work-related spinal condition.
A job re-training program allowed him, at the age of 35, to begin pursuing his lifelong dream of working as a professional artist.
"I got to where I couldn't work," he explained. "It was a good chance for me to go to art school. They paid for it, so I joined an art class downtown."
Frison adds that refining his art skills made it possible for him to continue supporting his family, even if his physical condition continued to deteriorate.
"Even if I got to where I might be bedridden because of my illness, I could still set up and draw lying down," Frison said. "I could still make something for my family."
After completing the three-year training program, Frison became involved with the Albina Mural Project, which was a public art project featuring the works of local black artists that was hung from the walls of the Albina Human Resource Center.

"None of them had official training," Frison said. "While I was going to art school, I learned how to do stuff with graphic design, and drawing stuff on a large scale. If it hadn't been for me, the project probably wouldn't have worked too well."
Frison was responsible for the creation and design of two of the Albina Mural Projects signature pieces, including one piece called "Civil Rights," which illustrated marches led by Dr. Martin Luther King Jr. and Ralph Abernathy. He says that the other mural he designed, "Black Cowboys," was inspired by his own upbringing in the Southwest. He says "Black Cowboys," showcases the role of African American ranchers in Texas and New Mexico.
"A lot of people think that black people didn't do anything on the farm except pull cotton," Frison explained. "But my family, we were real cowboys."
The Albina Mural Project only lasted eight years before the particle board that it was painted on degraded to a point where the artwork was no longer recognizable. Frison says that only one of his three murals in Portland survives to this day, on the inside of a church on North Dekum.
President Obama's first national campaign inspired Frison to return to his craft after a brief hiatus. His work since the Obama presidency began has focused on civil rights leaders and other prominent black figures, including pop-culture icons such as Prince and several portraits of the Obama family.
"During the time that Obama started running, I said to myself, 'that's going to be our next president," said Frison. "Ever since then, I've been drawing a lot of historical black people."
Frison's work will be displayed at the GreenHAUS Boutique and Gallery for the next several weeks, starting with Saturday's public reception with the artist at the gallery from 7 p.m. to 10 p.m. Prints and original copies of his artwork will be available for sale.