Deadly Blast Levels House
Explosion kills two; other homes damaged
Investigators were on the scene of a deadly house explosion Tuesday trying to determine what caused a Monday afternoon inferno that killed two people at a home on North Kerby Street across from Peninsula Park, causing extensive damage to surrounding homes and sending glass shards and other debris across the street into the park and surrounding area.
The suspected natural gas explosion and fire caused a massive shock wave that could be felt for at least 10 blocks, according to witnesses. The blast completely flattened the house at 6214 N. Kerby around 2:30 p.m. Monday.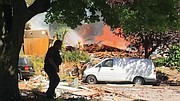 Authorities say Matthew McCrann, 42, died at a Portland hospital from injuries suffered in the blast. He was listed as owner of the house and was found critically injured behind the home when firefighters arrived. A second person killed in the blast was discovered later and has not been identified.
According to news reports, McCrann's father, Kevin McCrann, said his son lived at the home for the last 10 years. He was also identified as the father of Alissa McCrann, a woman who has been missing since Dec. 19 when her car was found abandoned and parked at Multnomah Falls.
The cause of Monday's explosion was not determined as of Tuesday afternoon, but authorities said a damaged natural gas line was one of the factors that made fighting the fire difficult. After the blast, Peninsula Park's pool was temporarily closed as a precaution and the recreation center was safely evacuated.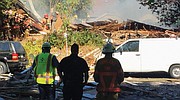 Fire crews will continue to search through the debris of the explosion. Portland Fire and Rescue investigators are being assisted by Portland Police, Gresham Police, the U.S. Bureau of Alcohol, Tobacco, Firearms and Explosives and Oregon State Police.
Wednesday, July 26th Update: The Oregon State Medical Examiner's Office identified the second victim of the explosion and fire as 68-year-old Richard Cisler. Cisler had been working on remodeling the McCrann home for over a year and his son was renting a room in the house, as well.