Rip City for All Ages, Skills
7/26/2017, 2:20 p.m.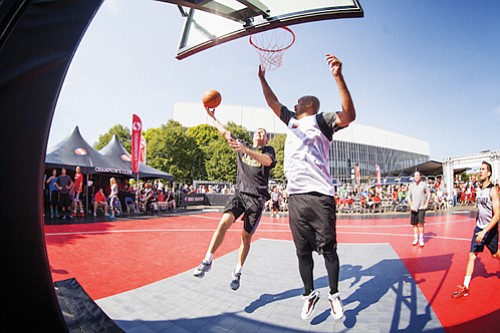 The fourth annual Rip City 3 on 3 Basketball Tournament, a premier outdoor basketball event for the public, sponsored by the Portland Trail Blazers and supporting Special Olympics, takes over the Rose Quarter this weekend featuring divisions for all ages and skill levels.
Rip City 3 on 3 will utilize a tournament format consisting of pool play beginning Saturday morning, leading into the exciting single-elimination playoffs on Sunday. The tournament will feature around 50 courts throughout the Rose Quarter campus, with a wide variety of divisions.
A 3-point shootout, Slam Dunk Contest, youth skills challenge – featuring esteemed judges from the Trail Blazers organization – and free Nike Youth Basketball Clinics will also take place over the weekend. Awards will be given to the winners of each competition.