Simpson Granted Parole
Release may come as early as Oct. 1
7/26/2017, 5:26 p.m.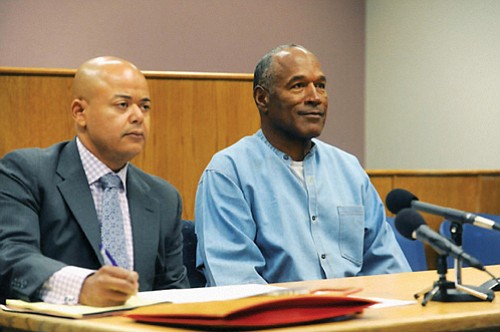 "I had basically spent a conflict-free life," he said — a remark that lit up social media with scornful and sarcastic comments given the murder case and a raft of allegations he abused his wife.
In a final statement to the board he apologized again.
"I'm sorry it happened, I'm sorry, Nevada," he said. "I thought I was glad to get my stuff back, but it just wasn't worth it. It wasn't worth it and I'm sorry."
Several major TV networks and cable channels — including ABC, CBS, NBC, CNN, Fox, MSNBC and ESPN — carried the proceedings live, just as some of them did two decades ago during the Ford Bronco chase that ended in Simpson's arrest, and again when the jury in the murder case came back with its verdict.
Simpson said if released he plans to return to Florida, where he was living before his incarceration.
"I could easily stay in Nevada, but I don't think you guys want me here," he joked at one point.
"No comment, sir," one of the parole board members said.
An electrifying running back dubbed "The Juice," Simpson won the Heisman Trophy as the nation's best college football player in 1968 and went on to become one of the NFL's all-time greats.
The handsome and charismatic athlete was also a "Monday Night Football" commentator, sprinted through airports in Hertz rental-car commercials and built a Hollywood career with roles in the "Naked Gun" comedies and other movies.
All of that came crashing down with his arrest in the 1994 slayings and his trial, a gavel-to-gavel live-TV sensation that transfixed viewers with its testimony about the bloody glove that didn't fit and stirred furious debate over racist police, celebrity justice and cameras in the courtroom.