A Space to Create
JAW: Playwrights Festival an incubator of new works
7/26/2017, 2:43 p.m.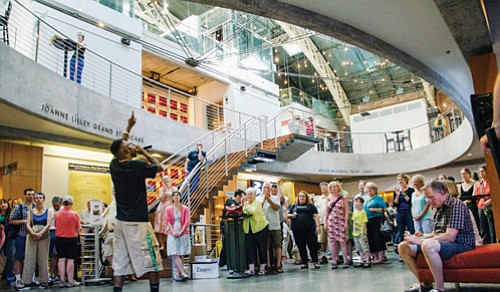 Portland Center Stage at the Armory, downtown, hosts its annual festival for talented playwrights this weekend featuring staged readings of scripts in development along with a host of exciting performances, all free and open to the public.
JAW: A Playwrights Festival was launched in 1999 as a space for playwrights to have complete creative control and the resources to work on whatever they want to development in their scripts.
Attendees can also enjoy a host of Press Play performances and dig deeper with Community Artist Labs presented by JAW featured artists.
This year's JAW staged readings include Kate Attwell's Testmatch, examining women's sports, mangos, and the ever-present legacy of colonialism; Small Steps by Briandaniel Oglesby, a comedy traversing 50 million miles and a million years; Mfoniso Udofia's In Old Age, part of a nine-play cycle about Nigerian American immigrants that explores the true nature of love and forgiveness; and Tiny Houses, Stefanie Zadravec's comic riff on Pandora's Box that follows the ripple effect on several women who suddenly realize they can disrupt the status quo.
The big weekend opens with a kickoff event on Friday, July 28 at 8 p.m. Readings will be presented on Saturday and Sunday at 4 p.m. and 8 p.m. in various locations at The Armory, 128 N.W. 11th Ave.
For a complete schedule and more information, visit pcs.org/jaw.