Dueling Protests
Activists counter white nationalism rally
Zachary Senn | 6/6/2017, 3:36 p.m.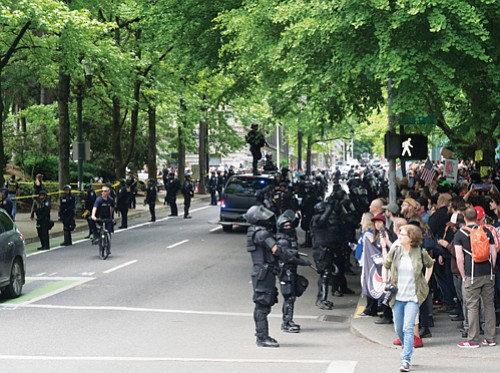 Demonstrators representing the white supremacist alt-right movement squared off against a diverse coalition of Portland community groups and justice advocates on Sunday. The opposing rallies took place just 10 days after a racially motivated stabbing attack left two people dead on a MAX light rail train.
The initial demonstration, which was billed as a "Trump Free-Speech Rally," by its organizers, took place on the federally-owned Terry Schrunk Plaza, which faces both City Hall and the Edith Green – Wendell Wyatt Federal Building. In response to the alt-right's demonstration, a loose collection of labor unions, immigrant rights groups and anti-fascist organizations showed up to protest the presence of white nationalist groups in Portland. The counter-demonstration took place in neighboring Chapman Square, and was permitted by the City of Portland.
Officers from the Portland Police Bureau, the Oregon State Police and the Department of Homeland Security's Federal Protective Service were present at the opposing rallies. Police made 14 arrests throughout the course of Sunday afternoon, and deployed crowd control munitions include flash-bang grenades, pepper spray and rubber bullets into Chapman Square. Police also seized dozens of weapons, including brass knuckles, make-shift shields and several bricks.