Fighting Racism
Advocates say political climate has emboldened hate
Zachary Senn | 6/6/2017, 3:46 p.m.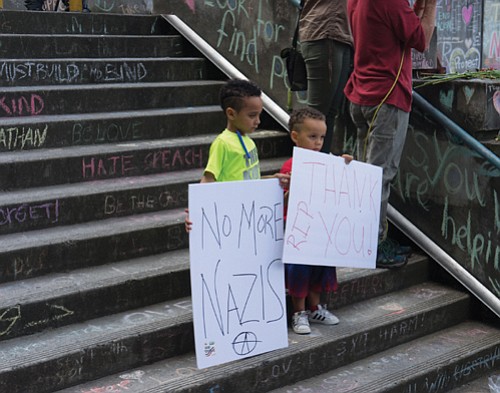 Racially—motivated fatal stabbings on a Max light rail train more than a week ago has raised concerns from a number of community leaders that a new connectivity on the Internet and a new sociopolitical climate has emboldened people with racist views, energized by the election of President Donald Trump.
Dante James, who serves as director of the Office of Equity and Human Rights for the city of Portland, has called on the media not to downplay the role that white supremacy and racism played in the Memorial Day weekend attack.
"Unless we acknowledge this reality and use these words," James said, "we will not be able to address the root causes of the problem."
In an interview with the Portland Observer, James explained that using diluted terms, such as "alt-right," "ethnic slurs" and "biased language" in conversations surrounding attacks motivated by racism can inadvertently help white supremacist groups to propel their agenda.
"They have in fact become more mainstream and can now use euphemisms like "the alt-right" to be more readily accepted," James said.
James says that the campaign of President Trump has emboldened those with white supremacist sentiments to be more vocal and violent.
"The election didn't create this," he said, "It just created an opportunity for it to be more comfortable in doing what it wanted to do."
Dr. Shirley Jackson, who serves as the chair of Portland State University's Black Studies Department, agrees that today's sociopolitical climate makes it easier for racist speech to be made publicly.
"In the past, people may have felt that they needed to take these kinds of remarks to the back room," Jackson said in an interview with the Portland Observer. "Now, there is this feeling that it's okay to say certain things that in the past might have been characterized as inappropriate."
Both Jackson and James believe that social media has played a role in connecting those expressing racist and white supremacist ideology.
"People on the Internet are looking for people who share their ideas." Jackson said. "Like-minded people will find comfort in those types of relationships."
James says that enhanced connectivity is one of the vectors allowing white supremacist messaging to continue to spread.
"You can have a mob mentality without ever being in the mob now, because of social media," James explained. "That's a huge difference from days past."
The policy director of the Asia Pacific American Network of Oregon, Zahir Janmohamed, says that while the stabbings have brought new media interest to the issue of racism in Oregon, Portland's communities of color are well aware of the region's historical white supremacist activity.
"This has been happening for quite some time," Janmohamed told the Portland Observer. "We've seen the presence of white supremacist groups."
According to a March 23 study released by the nonprofit investigative journalism group ProPublica, Oregonians reported the highest numbers of hate and bias crimes per capita in the country.
In a widely shared opinion piece that he penned for CNN, Janmohamed writes about how an extensive string of racially motivated attacks have been making waves in Portland's communities of color over the past year.

James says that ignorance of Oregon's racist past must be confronted for the region to move toward greater racial equity.
"White people in this state and in this city don't know the area's history," James explained. "It's not taught in schools."
Oregon's state constitution initially included a series of exclusion laws that banned black residents until 1926. These measures continue to haunt the state's demographic makeup, as 2013 Census Bureau data reveals that just two percent of the state's population is black.
Janmohamed says that Oregon's white population has a responsibility to counter racism and white supremacy.
"I'm Muslim -- I've been hearing for as long as I can remember that I need to go to Muslims and talk to them about problems of violence and extremism," he said. "I'm trying to address problems that I see within the Muslim community. Where are white Portlanders on this issue?"
Statements from other officials including Mayor Ted Wheeler and community organizations such as the Oregon AFL-CIO labor union and the Oregon Justice Resource Center expressed both condolences for the families of the victims and solidarity with the state's immigrant communities.
James says that the community and the city at large should continue to rally around and support the families of the two men killed, the man who survived the attack, and the two teenage girls the three heroes came to help when they were harassed by hate speech, including anti-Muslim taunts. One of the girls was wearing a hijab.
"I don't want the two young girls to get lost in this conversation," said James, "and in some sense I think they have been."
Jackson says that while the incident is tragic, she is heartened by the willingness of the men who came to help the two young women and stand up against bigotry, Rick Best, Taliesin Myrddin Namkai-Meche and Micah Fletcher.
"They did it because it was the right thing to do," Jackson said, adding, "I wish that we had more people who did those sorts of things so that we can engage in a system of checking people's behavior, hopefully without the loss of life."
James says that as Portlanders mourn the lives lost, they must also remember the racially motivated hatred that resulted in the violence.
"This conversation is really about the need to understand what these motivations are," James said. "This is about racism, pure and simple."