Healing from the Trauma
Rev. Jesse Jackson offers a path forward after transit murders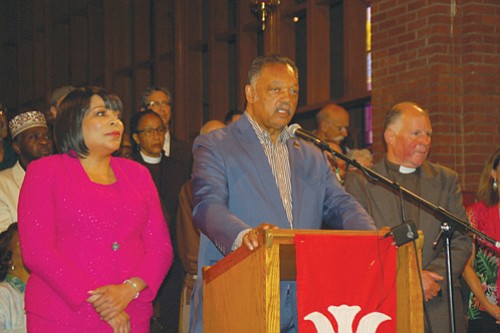 Rev. Jesse Jackson, the national civil rights leader, former presidential candidate and friend and political ally to the late Dr. Rev. Martin Luther King Jr. says Portland can reject a brand of violence in the aftermath of a double murder on public transit tied to a racist incident and instead send a powerful and multicultural message of peace and unity to the world.
Jackson came to Portland on Friday to help the city heal from the May 26 attack on a TriMet light rail train near the Hollywood Transit Station. It happened after three male passengers were stabbed coming to the aid of two teenage girls of multicultural backgrounds, one wearing a hijab, who were being harassed by a white man making racist and anti-Muslim taunts.
Jackson spoke Friday at Augustana Lutheran Church in northeast Portland at the invitation of Multnomah County Commissioner Loretta Smith, the only elected member in city or county government from Portland's African American community. About two dozen local religious leaders of all faiths and races joined them at the podium along with some 50 other attendees.
Jackson suggested that local leaders organize a massive, peaceful, and multicultural march to help deliver the message that Portland will not allow violence to be the brand of the city. He described the passengers who sacrificed their lives to protect the young girls as very brave.
"There is a challenge today and we must rise to the occasion," Jackson said. "The vicious killing of the martyrs reminds us how deep the wound is, how much sickness there is and how much work there is to be done. In the face of it all, we must turn to each other and learn to live together."
The national civil rights icon went on to describe the many serious struggles ahead for people of color, workers, women and children across America, calling out issues such as education cuts, criminal justice rollbacks and states limiting voting rights.
"We must not fight fire with fire, it makes the fire hotter. Fight fire with water," he said.
On the current political climate in Washington, D.C., Jackson pointed to a "counter-cultural revolution," which seeks to undermine the founding principles of democracy.
"America's revolution is give me your tired, your hungry masses. To lock out the immigrants, to lock out the refugees, to lock out all of Central and South America, this is a counter-cultural revolution," he said. "To privatize jails and close public schools, this is is a counter-cultural revolution."
Jackson called for unity in the struggles ahead.
"Regardless of whether our skin is black, white or brown we need each other and we must turn to each other," he said.
Jackson took an overnight flight from San Francisco to arrive in Portland for the breakfast meeting at Augustana Lutheran. The guests included many local activists as well as members from several religious traditions, including leaders from Christian, Muslim, Jewish, Buddhist, Sikh, and Native American groups.
A small gospel-jazz duo played Sam Cooke's Civil Right's anthem "A Change is Gonna Come." Several faith leaders spoke to the trauma of the attacks and how to move forward in the current national political climate.
Commissioner Smith, Augustana Pastor Mark Knutson and Dr. Rev. T Allen Bethel, senior pastor at Maranatha Church and president of the Albina Ministerial Alliance introduced Jackson.
"The tragedy that happened here a week ago today is so unthinkable. People are still trying to reconcile what they think about it," said Smith.
Before taking questions from members of the press, the gospel-jazz duo returned with a heartfelt performance of "Keep Your Eyes on the Prize" with Jackson, Smith and the faith leaders joining together in song.
Jackson's next stops were meeting with Portland Mayor Ted Wheeler and with Micah Fletcher, the 21 year old Portland State University student hero who survived the tragedy.
The victims killed were retired Army veteran and city employee Rick Best, 53, and recent Reed College graduate Taliesin Myrddin Namkai Meche, 23. Jeremy Joseph Christian, 35, of north Portland has been charged with aggravated murder in their deaths.