Mourned as Martyr and Hero
6/6/2017, 3:40 p.m.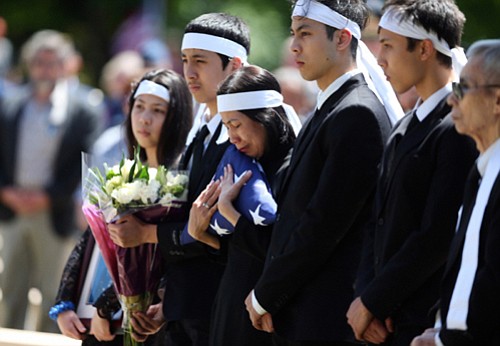 (AP) -- Mourners remembered one of the men who was fatally stabbed trying to stop an anti-Muslim tirade against two teenage girls on a Portland light-rail train as a modern-day martyr and a hero who never stayed on the sidelines when others were in need.
At the funeral Monday of Ricky Best, 53, one of his teenage sons, Erik Best, said his father understood deeds were more important than words, calling his father a "child of God."
Best, an Army veteran who worked for the city of Portland, also leaves behind a wife, two other teen sons and a 12-year-old daughter.
Prosecutors say Jeremy Joseph Christian killed Best, another man and wounded a third when they tried to stop Christian from verbally assaulting the girls, one of whom wore a Muslim head covering.
Christian, 35, faces aggravated murder and other charges in the case. He has not yet entered a plea and has a court hearing later this week.
At Best's funeral, the Rev. Rick Paperini used the word "martyr" to describe Best's actions.
"It is a privilege to love," Paperini said. "I think Ricky understood love this way. He saw it as an opportunity and a privilege, and that's why he responded the way he did on the 26th of May, 2017."