Field Trips Open Minds
6/13/2017, 1:57 p.m.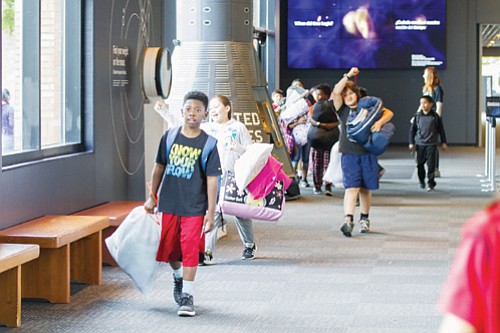 Local students from schools across the region have a chance to visit Oregon Museum of Science and Industry (OMSI) with its hands-on exhibits thanks to a free program sponsored by Google to introduce students in underserved communities to science and math careers.
At one recent OMSI Camp-In, students from Rigler Elementary in northeast Portland experimented with hands-on activities in OMSI's Turbine Hall, like exploring the ocean through an augmented reality sandbox, trying their hand at managing a power grid and seeing what it's like inside of a solar panel. They also took in a planetarium show and a live science demonstration presented by OMSI staff.
"Hands-on experience in the STEM field is extremely important to students' awareness of the kinds of careers open to them," said Google's Darcy Nothnagle. "We're proud to work with OMSI to make sure students in underserved communities have opportunities to see how exciting science can be."