Habitat Homes Rise in Cully
6/20/2017, 3:46 p.m.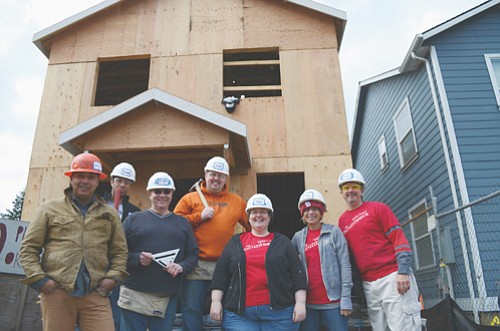 Wells Fargo employees have volunteered more than 130 hours so far this year to build 21 affordable homes in Portland's Cully neighborhood of northeast Portland. They will continue to assist with various phases of the construction and at another build site in the Lents neighborhood of southeast Portland.
Wells Fargo Housing Foundation donated the $45,000 to Habitat for Humanity in support of their volunteerism. The nonprofit organization partners with volunteers to build affordable, safe and sustainable homes which it sells to low-and moderate-income families with an affordable mortgage.
"We believe homeownership is a central part of a healthy, vibrant community," said Wells Fargo Regional President Tracy Curtis of Portland. "Since its inception in 1993, the Wells Fargo Housing Foundation has given more than $190 million to support affordable housing, including $455,000 in the last five years to Habitat for Humanity Portland/Metro East."
More than 175,000 Wells Fargo employees across the nation have volunteered 4.78 million hours in the past 20 years to build and rehabilitate nearly 7,600 homes and counting in low-to-moderate income communities.