Pompeii Exhibit Comes to OMSI
See a city frozen in time by catastrophic eruption
6/20/2017, 3:41 p.m.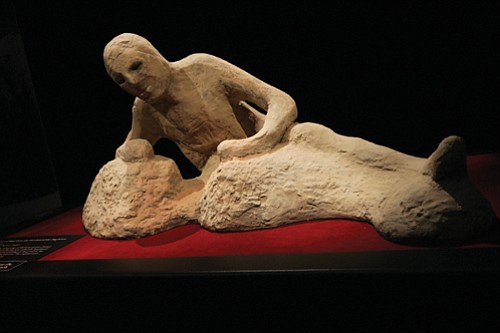 A worldwide exhibit examining life in Pompeii both before and after the eruption of Mt. Vesuvius in 79 A.D. opens Saturday, June 24 at the Oregon Museum of Science and Industry.
Pompeii: The Exhibition features nearly 200 precious artifacts on loan from the unparalleled collection of the Naples National Archaeological Museum in Italy including a first century, bronze gladiator helmet; a Citharist bronze statue of Apollo, dating to 50 A.D.; and several remarkable fresco paintings, including one of Dionysus and Silenus, dating between 50-79 A.D.
"This exhibition offers our guests the opportunity to study and understand history through the scientific lens of archaeology and volcanology," said Nancy Stueber, OMSI president and chief executive officer. "Volcanoes are a part of our life here in the Pacific Northwest, and this exhibition allows our visitors to explore earth and volcano science, regionally and worldwide."
Pompeii was hidden from view and forgotten for centuries until its rediscovery more than 250 years ago. Over time, archaeologists have uncovered a unique record of its daily life--roads, buildings, municipal services, paintings, mosaics, artifacts, and preserved bodies.
Pompeii: The Exhibition runs until Oct. 22.