McCoy Academy Coming Down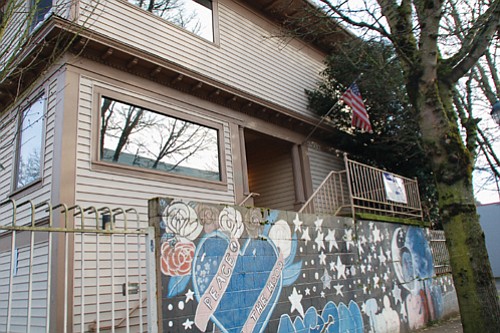 The Gladys McCoy Academy handed what could be their last graduating class their high school diplomas on Friday evening. The historic building on Northeast Martin Luther King Jr. Boulevard that has housed the school for 25 years has a date with wrecking crew and will be replaced by condominiums. The school has historically been a safe refuge for low income youth who had previously dropped out or are at risk of dropping out of school.
The Portland Observer reported on the alternative school's financial struggles in the face of gentrification last December. Since that time, the nonprofit Oregon Outreach organization that runs the school hasn't been able to find affordable space for their classrooms and students. They have two weeks left to pack and move.
With five at-risk students* currently enrolled in the program, the academy is hoping to raise enough funding to relocate and cover tuition for the following school year, according to Oregon Outreach executive director Rebecca Black. To make a tax deductible donation you can visit their website oregonoutreach.org/how-can-i-help/donate/.
*McCoy Academy Clarification: McCoy Academy normally enrolls 15 students in their program for at-risk youth with as many students on the wait list. With 10 students graduating this year, there are five students left to join the incoming class next fall if the school can be saved. "We really need help at this point," school executive Rebecca Black said, in clarifying the enrollment numbers from an article in last week's issue. The 25 year old McCoy Academy building site on Northeast Martin Luther King Jr. Boulevard is slated for demolition and the academy must move in the next few days. You can visit their website on Oregon Outreach to make a donation: http://oregonoutreach.org/how-can-i-help/donate/.