Foul Mouthed Board Member
Principals and administrators say behavior intolerable
Zachary Senn | 6/28/2017, 9:12 a.m.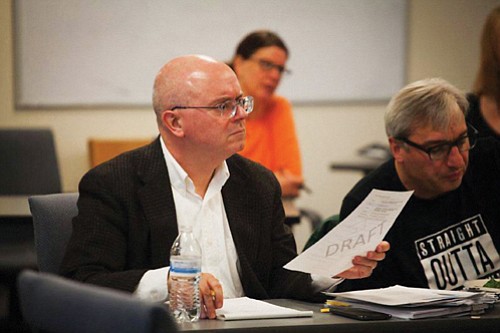 A member of the Portland School Board has come under fire for making vulgar and disparaging statements against his fellow board members and school administrators.
The Portland Association of Public School Administrators has called on board member Paul Anthony to resign, citing his regular habit of making demeaning and sexist comments about other school board members and district employees.
Anthony, a former parent activist from north Portland who was elected to his position in 2015, has been rifling the feathers of both administrators and his colleagues on the board since he assumed his tenure. Last summer, Anthony created a rift in PPS' administrative circles after suing the district for racially discriminating against its students of color.
Comprised of principals and other school administrators, the PAPSA organization obtained access to Anthony's private email and text messages by using the Oregon Public Records Law. In one instance, he referred to the administration of Interim Superintendant Bob McKean as, "Lockdown Bob and his Merry Band of Perverts, and to fellow board members as "bitches" and "pussies."
The administrators say that Anthony's conduct damages the district's reputation, and sets a poor example both for district staff and PPS' students. They say that his personal attacks and direct involvement in disciplinary actions against employees could open up PPS to the possibility of lawsuits. The organization also alleges that Anthony's conduct shows favoritism toward some employees, and creates a generally hostile work environment.
In a statement released last week, PAPSA says that if the district is expected to heal from the instability and trauma caused by last year's lead-in-water crisis, its administrators must be free of Anthony's intimidating and disparaging remarks.
The last time that district leaders called on a board member to resign was in 2001, after Derry Jackson, a member of Portland's African American community, made anti-Semitic remarks.