Good in the Neighborhood
The 25th Annual Good in the Hood Festival was a huge success with record numbers of people celebrating.
6/29/2017, 3:46 p.m.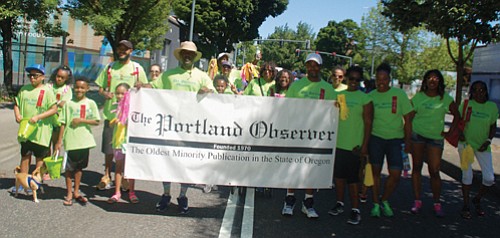 The 25th Good in the Hood had record turnout numbers and enormous support from the community this past weekend.
As reported by the Portland Observer, the Pacific Northwest's biggest multi-cultural festival received two separate racist threats, including one towards lead organizer of the event, Shawn Penney and his family.
Penney and the community wouldn't be deterred by threats, the show went on and people had a great time.
Friday's kick off events had one of the largest crowds in the event's history.
On Saturday, the festivities began with the traditional parade from King Elementary and ended at Lillis-Albina Park. Classic cars, the Rose Queen, marching bands and more participated. Multnomah County Commissioner Loretta Smith and Senator Jeff Merkley joined hundreds of community members in hundred degree heat to taste food from a few dozen cultures, listen to some hot jams and celebrate unity over hate.
The Portland Observer joined the march for the 25th time this year. Here's a selection of photographs we took on Saturday.