Ready for Waterfront Blues
30th annual event jams July 4th weekend
6/29/2017, 1:46 p.m.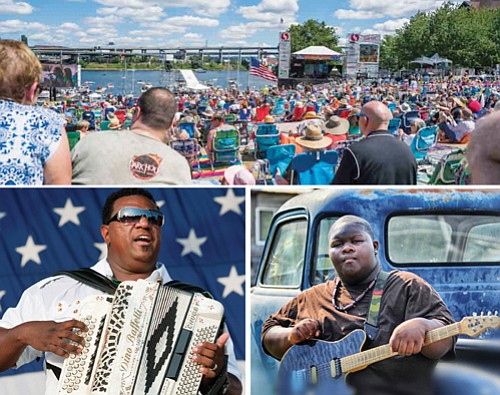 Thousand of blues fans will do their part to fight hunger in Oregon and southwest Washington over the long July 4th holiday weekend at the annual Safeway Waterfront Blues Festival, a major fundraiser for the Oregon Food Bank.
Blues legends, up-and-comers and local acts will highlight a five day festival that will feature 120 blues acts on four stages, beginning Friday, June 30 at Waterfront Park, downtown, and continuing through Tuesday, July 4.
One of the festival's headliners includes the return of the young Mississippi bluesman Christone "Kingfish" Ingram, who will be celebrating not only the festival's 30th anniversary, but also his own recent graduation from high school!
This will be Christone's third visit to Waterfront. His first outing proved one of the most stunning debuts ever seen at the festival, as the young guitar shredder all but stole the show on a lineup that included such legends as Gregg Allman and Buddy Guy.
Hubby Carrier and the Bayou Swamp Band return as unofficial host and house band for the Cajun-Zydeco dances on the festival's Front Porch Stage. Carrier mixes the traditional accordion and washboard boogie of the Cajun prairie with dashes of '70s funk, spices of classic R&B, to create refreshing, swampy twists on classic songs as only authentic Louisiana ambassadors can do.
Other headliners include Big Head Todd Blues Club, Chris Isaak, Joss Stone, Galactic, Elvin Bishop, Fantastic Negrito, Canned Heat, JD McPherson, Bokante, Pine Leaf Boys, MarchFourth, Pimps of Joytime, Booker T Stax Revue, Cedric Burnside Project and Sonny Landreth.
Additional acts include Southern Avenue, Greyhounds, The Revelers, Blynd, Jontavious Willis, Brother Yusef, Dirty Bourbon River Show, Donna Angelle, Dustbowl Revival, Eric Gales, The Suffers, Chris Cain, Monkey Junk and Sons of the Soul Revivers.
"Five days, four stages and more than 150 eclectic performances. For just $10 a day Waterfront Blues Festival is the concert deal of the summer," said Waterfront Blues Artistic Director Peter Dammann. "But it's much more than that. For three decades this event has supported Oregon Food Bank while reaffirming and strengthening the threads that bind us as a community. This has become one of the great community music festivals and it could only happen in Portland."
"We are truly humbled to mark 30 years of support from the blues community to feed the human spirit of the 1 in 5 people facing hunger in our state. Since 1988, this iconic festival has raised more than $10 million and 1,000 tons of food for hunger relief. This is an achievement we are extremely proud of -- and an achievement that is unprecedented in the concert festival business, said Oregon Food Bank chief executive officer Susannah Morgan.
For a complete festival schedule, visit waterfrontbluesfest.com.