Black Parents Initiative Builds Support
Children supported by stable, engaged adults
Zachary Senn | 3/2/2017, 2:18 p.m.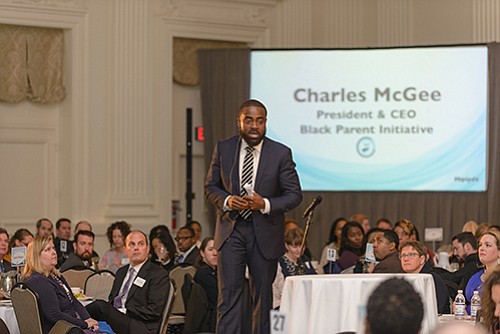 One of the hallmarks of Dr. Martin Luther King Jr.'s civil rights legacy was its focus on the importance of education. "The function of education, therefore, is to teach one to think intensively and to think critically," Dr. King wrote in a 1947 essay for the Moorehouse College student paper, "The Maroon Tiger."
Charles McGee, a Liberian-born Portlander, has dedicated his life's work to continuing to carry out Dr. King's legacy in regards to education. McGee, along with friend Johnell Bell, founded The Black Parent Initiative in 2006 in order to assist black families and their children attain educational success but also financial and spiritual success.
The non-profit group believes that children are more likely to succeed when supported by stable, engaged adults. It's a mission that drew hundreds of supporters last week when the organization raised $146,000 for programs to help parents make healthy choices in a child's first 1,000 days of life.
McGee was born to a father who worked for Liberia's intelligence services. When political tides, shifted, however, his family fled to the U.S., and eventually settled in northeast Portland.
"What made me who I am today is the family that I grew up in, and the community that my family was able to orchestrate around me," McGee told the Portland Observer. "They let me know very clearly that not only was failure never an option, but also that I was predestined to do something great."
As the president and chief executive officer of the Black Parents Initiative, McGee seeks to instill members of Portland's black community with a healthy sense of self, turning back the negative narratives regarding poor communities and communities of color that can have adverse affects on children's achievements.
"Doses of healthy cultural identity are not only pivotal, but they're instrumental to the formation of human development," he says. "We focus a lot on kind of redefining what people's cultural identity looks like and means for them," he said.
The non-profit group attempts to create more stable home environments for the families enrolled in its programming.
"All the research around early brain development tells us that one of the most critical things that you can do for a child that age is give them stability," McGee said. "The reality is, for a lot of these families, their social and economic status puts them in this space where poverty becomes the only thing that they can do… When you add that to an unhealthy racial identity, you now have cast them into sort of this whirl from which upward mobility can be nearly impossible."
Citing the disproportionally high rate at which black families in Multnomah County are locked out of housing and employment, McGee explains how finding suitable jobs for parents, oftentimes, can be the defining difference in a young person's development.
Moving forward into 2017, McGee expects the Black Parent Initiative to continue serving its community.
"We're at an extremely pivotal point in this city… It is no longer okay for this community to just sit on its laurels and say we are progressive. We're now at this time where we must not only be progressive, but we must live out our progressive nature."
McGee believes that a part of addressing issues like education, housing and poverty in the Portland area require a broader viewpoint.
"The issues that face our communities are so complex, but they're interwoven… You can't separate the issues of economic mobility and the issues of education. You can't separate the issues of housing and the issues of mental health. They're all one."