Build Better Futures
'Believe to Achieve' founder marquees scholarship drive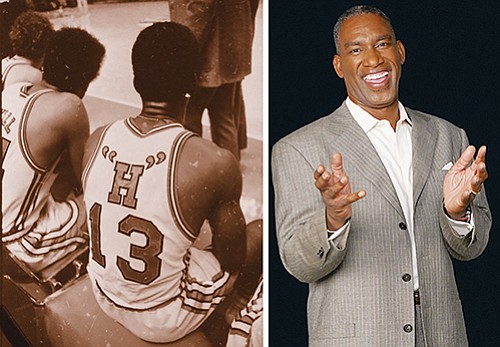 Local community leaders working to lift black and minority students to future careers and promising lives by helping them achieve a college education will get some star power at their annual United Negro College Fund gala Friday.
Howard White, the founder of "Believe to Achieve," the national youth movement program at Nike, a longtime Nike executive, Portland resident, and basketball legend at the University of Maryland, will be the keynote speaker at the "Each One Teach One" Portland UNCF Leadership Council reception on Friday, March 3 at 6 p.m. at the Moda Center.
Michelle Harper, Portland chair for the group, encourages supporters, students and parents to attend.
"Help chart the path of success for our kids and open the doors to opportunity," she said.
A dynamic public speaker, White is known for sharing his knowledge and experience with others to enrich the lives of children and those around him. He has focused on being a positive role model.
White joined Nike in 1982 after a stellar college career at Maryland and a stint in the NBA cut short by injuries. He is vice president of the Jordan Brand, a division of Nike and is the founder of the sports apparel company's "Believe to Achieve" youth movement to inspire kids to reach their full potential through focus, sacrifice and positive role models.
Known by the letter "H" for his days at Maryland when he only wore the letter "H" on the back of his jersey, White helped the Terps win the NIT and twice helped his team make it to the Elite 8 of the NCAA tournament.
It was after a second knee surgery in college that he began to focus on "who" he was rather than "what" he was. Basketball played an important role in White's life, but it didn't dictate its outcome.
White and his wife Donna reside in Portland, and are the proud parents of a daughter, Mandy, a two time All-American track star, who helped lead the University of Oregon to three Pac-10 championships during her career, is now a professional track and field athlete.
"Each One Teach One" will not only raise money for scholarships, it's a resource for students and parents considering college. Information about the grants and resources available to attend both local universities and the UNCF network of colleges and universities will be a big part of the festivities.
This is just the second "Each One Teach One" fundraiser the local UNCF group has organized and is sure to draw the interest of a new generation of students and parents. The event is free thanks to the generosity of sponsors, including Nike's Jordan Brand, the Portland Trailblazers, and Pacific Power. Evening activities will include a silent auction, raffle, cocktails, hors d'oeuvres and music.
For questions or more information, email infoportland@uncf.org or call 503-223-8890.