Voting Rights Pioneers Honored
3/7/2017, 4:43 p.m.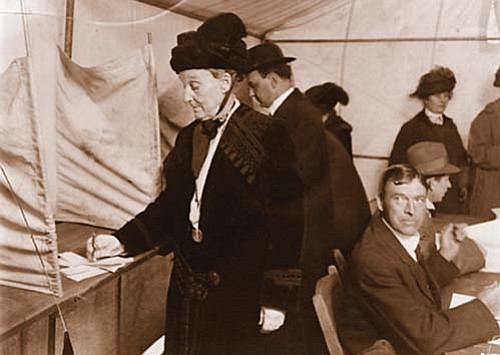 Multnomah County Commissioner Loretta Smith will lead a ceremony Wednesday to rename the county Election's Building at Southeast 10th and Morrison in honor of two women pioneers who fought for the right for women to vote in Oregon.
Abigail Scott Duniway and Esther Pohl Lovejoy were activists from the late 1800s and early 1900s who changed Oregon history by leading campaigns for women's suffrage.
"They were women of commitment, women of determination, and women who fought for equality, fairness and full citizen participation," said Barbara Roberts, Oregon's first female governor and a proponent of the name change.
After decades of tireless work towards achieving the right of women to vote, Duniway remained undeterred by the failure of bills to pass the State Legislature six times. During a 1912 campaign, she fell ill and Dr. Esther Pohl Lovejoy, the first woman to direct the Portland Board of Health, stepped in to lead the movement.
Commissioner Smith proposed naming the elections office in their honor.
"It's more than a symbol. It's a dedicated commitment to reaffirm these rights for community members we strive to serve every day. Our community is changing. This is an opportunity to demonstrate that we do not forget the past and how we continue to secure those freedoms and rights for all our community," Smith said.